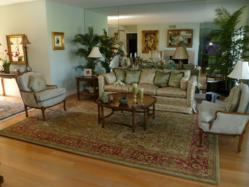 You really impressed me with your work ethic....and then followed up with great work and products.
San Diego, CA (PRWEB) July 17, 2011
With the increasing demand of renovation on homes in the San Diego County, Star Glass San Diego has welcomed the idea of making living rooms look bigger, bathrooms looking wider, and gyms looking spectacular, with the use of mirrors. By installing mirrors on a living room wall, you can make a small, cramped, living room look bigger, larger, and welcoming. Having a light source next to a mirrored wall also increases the overall light ambience. Installing a mirror in a bathroom wall creates a wider bathroom appearance, and nothing beats tall mirrors on a home or commercial gym.
There are two ways to have a beautiful mirrored wall. The first way is to install 1/4" clear mirror, with either a standard flat polish, or a special bevel around the perimeter. The second way is to apply Graffiti Guard on the surface of the mirror, to prevent actual damage to the mirror when it is vandalized. How often have you been in a store or business and walked into their bathroom to see the mirror completely vandalized. Vandalized mirrors in businesses create two effects, a sense of low interest of customer satisfaction and the impression of being in a low quality business. Mirrors with Graffiti Guard eliminate the need to replace the mirror, if vandalism occurs, and gives you the ease of replacing only the clear Graffiti Guard film, at a fraction of the price. And, because Graffiti Guard is clear and almost invisible, it will not distort or degrade the reflection of the mirror, and vandals will never know they are actually vandalizing the Graffiti Guard. Graffiti Guard is also widely used on Store Front windows and Doors.
When it comes to glass and mirrors, all glass companies buy their glass and mirrors from the same manufacturers. So, what separates Star Glass San Diego from the rest of the competitors? It's the experience and the honesty needed to sell the right products, to the right customers, at affordable prices. It is Star Glass San Diego's goal to save their customers money, using their 10 years experience in the glazing industry, without sacrificing service or workmanship. Call Star Glass San Diego at (619) 246-1276 today to get your free estimate on mirrors with Graffiti Guard. It's an investment worth every cent.
###