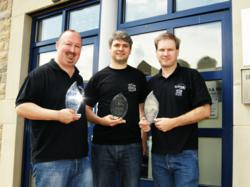 "Customer service is at the very core of Exa, and was the main reason for us forming the company. Whichever technologies our customers choose to use we ensure we can support them correctly all the time."
(PRWEB UK) 15 July 2011
Yorkshire IT firm Exa Networks has won first prize in The UK Internet Industry Awards 2011 for its high level of customer service.
Exa Networks, based in Cottingley near Bingley, beat strong competition to win the Best Business Customer Service category at the 13th ISPAs (Internet Service Provider Awards - London July 7, 2011).
The judges, all industry peers, decided Exa Networks is the Internet Service Provider which gives the most outstanding service to businesses. Their official comment was: "In a competitive field, the judges were impressed with Exa's submission, in particular their open spam system, commitment to pick up the phone within 3 rings and strong retention rates."
Mark Cowgill, Managing Director of Exa Networks, said: "Customer service is at the very core of Exa, and was the main reason for us forming the company. Whichever technologies our customers choose to use we ensure we can support them correctly all the time."
Exa Networks specialises in IT Connectivity, networking and specialist software for the business and education sector. It was formed in 2003 by Mark Cowgill, Michael Syree and Thomas Mangin and now employs 20 people.
The ISPAs are a premier event for the UK internet industry and are unique as they are awarded to people and organisations in the industry by their peers and reflect the broad nature of the service provider sector.
The Internet Services Providers' Association (ISPA UK) has been organising the UK Internet Industry Awards since 1999 to herald the best of the Internet industry and to celebrate innovation and best practice. In 2002 the awards were dubbed The ISPAs.
###