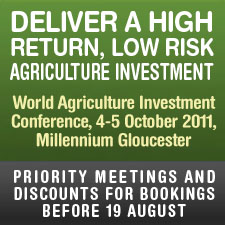 Confirmed participants include: ViVa, Citi, Saumweber Holdings, Hermes Fund Managers, OECD, Chayton Capital LLP, Paine + Partners and many more
(PRWEB) July 19, 2011
On October 4-5, this intimate forum will bring together, and facilitate personal meetings with, investors, experienced asset managers and leading agribusiness professionals.
It's all about doing real deals, forming effective partnerships and taking away an honest appraisal of agriculture as an investment vehicle. This unique approach ensures maximum value and time well spent.
As institutional investors increasingly turn to alternative investments, the timely agenda focuses on:

The practical know-how and risk / return profiles on Ag strategies
The profitability of private equity investments in the agriculture supply chain
Proven techniques to partner with top operators
Alongside keynote presentations, plenty of time has been built in for one-on-one and round table meetings to nail-down on key areas of interest.
Confirmed participants include: ViVa, Citi, Saumweber Holdings, Hermes Fund Managers, OECD, Chayton Capital LLP, Paine + Partners and many more
This is a once-only chance to meet institutional investors and leading asset managers and operators offering with the practical know-how needed to execute the ideal agriculture investment.
You need to secure your spot by July 22nd – to take advantage of priority one-on-one meetings and discounted passes (save £400). Booking couldn't be simpler:

Online at: http://bit.ly/q2J7MF
Email: send gkiley@aginvestconference.com an email with the subject line 'REGISTER', the type of pass you'd like (Business or Basic), your contact details and we'll raise an invoice for you
Phone: Call George Kiley directly on +44 207 375 7545 or 1800 814 3459 ext 7545 (US toll free)
George Kiley
Investment Director – FC Business Intelligence
Agriculture Investment
E: gkiley(at)aginvestconference(dot)com
Tel: +44 (0) 207 3757 545
Toll Free US: 1800 814 3459 ext. 7545
###