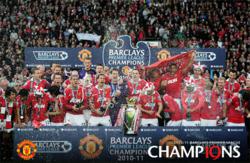 (PRWEB) July 18, 2011
Newspanel's sports pundit James Park sees the upcoming Barclay's Premier League Season as one to cherish. With teams such as Manchester United, Chelsea and Manchester City adding top notch additions to their already world-class squad, James Park has a gut feeling that the new season will leave many with a shock on their faces. James Park believes this season will this season will leave the top guns with no space for error.
"This season will be one to remember for sure, clubs such as Manchester United have improved their squad as they fight it out for the crown of the Premier League title" ManUtd will be looking to keep hold of the title and that is why they have went out so far in the transfer market and splashed out big time so far this summer to ensure they do so," said Park.
The Premier League without an doubt, is the most competitive and most interesting league in the whole world without an doubt. If you watch the football highlights of Saturday's and Sunday's matches on popular football TV shows such as Match Of The Day (MOD) it is always interesting from the start to the finish but if people were to watch the highlights from leagues such as the Italian or Spanish league, they will find that the matches won't be as engaging as the matches in the Premier League as they tend to adopt a more passing, slow tempo style to their game.
"The Premier League is and will always be interesting, there are always big profiles moving either from different Premier League clubs to another or from abroad and the upcoming season will see new class act stars take the stage of the biggest and the most populist league in the entire world. Teams such as Chelsea are Manchester City are splashing big every year so they can get their hands on the Premier League crown and other domestic titles so it is important that teams such as Manchester United keep adding improving certain areas of their squad every year if they are going to challenge for titles," said Park.
"Manchester United, having signed a promising goal keeper in David De Geto replace the veteran shot-stopper Edwin Van Der Sar as well as the possible future England captain Phil Jones and former Aston Villa attacking winger Ashley Young are obviously going to look to look to compete for the Premier League title as well as compete for other major domestic silverware. Manchester City (surprisingly) haven't signed any players that people have been buzzing about and so haven't Chelsea of yet but don't be fooled in thinking they won't sign any dangerous players, in the next 3 weeks there will be some major signings for both sides and Manchester United seem to haven't finished business on there corner as reports suggest they are looking for a midfield player," Park added.
Other teams will be looking to have a good season under their belt and one of them looks likely to be Liverpool. Manager Kenny Daglish, known by many Liverpool supporters as "King Kenny" took over a club which is basically in decline, lead the team to a great ending to the season finishing in 5th place. It will be an interesting season for teams such as Arsenal as no one knows if important squad players such as Samir Nasri and Cesc Fabregas will remain at the club next season.
Twitter - http://twitter.com/#!/_Newspanel
Newspanel
07565924433
Contact: - contact(at)newspanel(dot)co(dot)uk
###