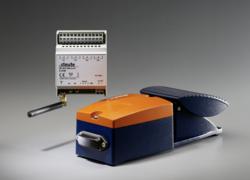 The RF GFI and RF GFSI features .steute's own new and unique wireless protocol
Worcestershire, UK (PRWEB UK) 19 July 2011
The new RF GFI and RF GFSI battery-operated industrial foot switches from .steute UK & Ireland not only exploit these advantages but also feature the company's own new and unique wireless protocol.
Based on years of experience deploying radio technologies, .steute's new wireless protocol was originally developed for its 'Meditec' range of medical control devices, where the safe and reliable transmission of the wireless signal is imperative and the switching function is not restricted by interference from other radio networks, including Wi-Fi. Another key advantage of .steute's wireless protocol is the use of a frequency within the license-free, globally-accessible 2.4 GHz waveband.
The new IP67-rated RF GFI and RF GFSI footswitches, which are ergonomically designed and feature low pedals and high stability, have been tested to more than one million operations and are suitable for use in operating temperatures between -20°C and +65°C. Battery life has also been tested to approximately 20,000 actuations and radio signals from the new footswitches are evaluated by a compact 4-channel wireless receiver unit, the RF RXT SW2.4, which can be easily installed in a switching cabinet.
The cast-aluminium enclosures of the two footswitches have an enamelled finish to withstand even the highest levels of mechanical wear and tear.
Further information on the RF GFI and RF GFSI footswitches can be found at http://www.steute.co.uk. Alternatively, call .steute UK & Ireland on +44 (0)1684 310430 or email infouk(at)steute(dot)com.
###