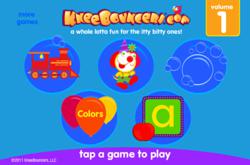 (PRWEB) July 17, 2011
KneeBouncers.com, a web site designed for the youngest family members to play and learn, and Over the Moon Apps, an app developer that specializes in children's apps, have launched a new fun educational app: KneeBouncers Big Little Games Vol 1 (now available for iPhone/iTouch/iPad and the Android Market). Five games straight from the KneeBouncers.com website. Kids in age group 1-4 would enjoy playing with this app and learn colors, and the alphabet.
The app is designed for the youngest child to navigate easily, big colorful graphics make the games easily recognizable, with just a tap of a bubble the game begins. Little kids can become engaged with the fun of bubble popping, take a joyful and surprising ride on a train, be entertained by a three ring circus, burst colorful balloons while learning the basic colors, and be introduced to the alphabet through funny animations.
Why kids will love KneeBouncers Big Little Games Vol 1?

Trains, cars, tractors, bubbles, balloons, clowns, acrobats, hippo, walrus, and more.
Colorful attractive graphics with funny animations.
Very simple and easy to use. Child-friendly design.
Background voice-over speaks aloud every alphabet and word.
Why parents will love KneeBouncers Big Little Games Vol 1?

Kids will learn colors, and alphabet along with first words.
Kids will learn to speak the alphabets and words after hearing the voice-over.
Kids will learn to recognize the pictures both from their spoken and written names.
Kids will be able to use the app alone and spend hours learning and having fun at the same time.
Parents can sit with their child and enjoy the app together and thus increase parent-child bonding.
The KneeBouncers Big Little Games Vol 1 is now available for $1.99 on the iPhone, iPad iPod Touch, and Android markets. http://itunes.apple.com/us/app/kneebouncers-vol1/id448806887?ls=1&mt=8.
###