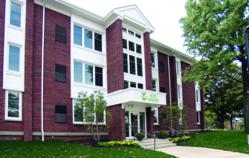 EnVision raises the bar on student living.
Akron, OH (PRWEB) July 17, 2011
Edward and Herbert Newman and their partners announced the completion of EnVision Apartments, a new student apartment community developed around the concept of "Green-minded Living". Located just steps from The University of Akron, EnVision Apartments provide students trendy, upscale, eco-friendly living spaces and amenities.
The first buildings were completed and occupied in January, 2011. Quickly, EnVision earned a reputation as the "in" place to live with modern furniture, granite kitchen surfaces, and "Energy-Star" appliances including a dishwasher and microwave. EnVision also offers community areas to enhance the social experience with contemporary seating and flat screen TV's, a 24-hour fitness center with state-of-the-art exercise equipment, as well as study lounges, bike storage and laundry facilities in each building.
"EnVision raises the bar on student living," stated Herbert Newman, founder of Summit Management Services, Inc. "The success of this project has exceeded our original vision. Not only is the design and decor of the units impressive, the dynamic energy of this community has amazed us. The students and our staff embraced the green-minded living lifestyle forming an elite community who are really making a difference. "
The EnVision philosophy of caring is not limited to the environment but extends to the students too. The website (http://www.envisionapartments.com) features a unique parent portal where parents can notify the staff of a student who's under the weather. The Envision staff will deliver a "Get Well" package of chicken soup, 7-up and some TLC.
The EnVision apartment community consists of 111 (one-hundred eleven), two- and three-bedroom luxurious units housing approximately three-hundred (300) residents within its five buildings. The property is filled with environmentally friendly technologies from appliances and lighting to "tankless" hot water systems and a bio-swale, designed to filter storm water through the soil, thus removing pollutants, improving water quality and reducing standing water that attracts mosquitoes.
For additional information please visit http://www.envisionapartments.com or contact: Mr. Edward M. Newman, CEO, CPM, Summit Management Services, 730 W. Market Street, Akron, OH 44303, (330) 762-4011, enewman(at)summitmanagementservices(dot)net
Backgrounder
EnVision Apartments is the vision of Akron developers Edward and Herbert Newman and their partners in what they believe will anchor and solidify the southern neighborhood of the University Park community near The University of Akron campus. Total investment from the design to completion phase is anticipated to exceed $12 million dollars.
Bialosky & Partners-Architects of Cleveland was commissioned to create and implement the design phase of this endeavor, which represents an adaptive re-use of existing structures. All structures will have red brick exteriors in recognition of Akron's industrial past and will utilize a large number of "Energy-Star" windows in the design to exploit the advantages of natural lighting opportunities.
Regency Construction of Cleveland has been charged with Construction Management responsibilities.
The property will be managed by the Newman's housing management firm, Summit Management Services, Inc., based in Akron, and which presently operates over 3,000 housing units in Ohio, Colorado and North Carolina. This number includes almost 500 "student" apartment units comprised of four (4) communities in Kent, Ohio and Ft. Collins, Colorado.
Herbert Newman, a University of Akron School of Law graduate who founded Summit Management in 1979 stated, "As a family that was raised, grown and prospered within the Akron community, we felt that it was important to make another significant financial commitment to the community, in addition to the housing we have created throughout Akron and Summit County in the past. We also wanted to become an integral part of the noteworthy development in the University Park neighborhood because it is a high growth area, and is greatly supported by financial and social commitments made by others, including The University of Akron and the City of Akron."
Edward Newman, Summit Management's Chief Executive Officer continued, "We are energized by the tremendous growth of the University Park neighborhood and decided that this was a project that we should undertake because of our family's strong and long-held belief in our community. The breath-taking transformation of The University of Akron campus has been the impetus for this enormous financial investment. Student housing has become a niche for us elsewhere and we concluded that it could be done here and done successfully. Also critical to this process was our insistence that 'green' technologies be incorporated and utilized in the design and construction phase and within the apartments upon occupancy through our management component."
# # #