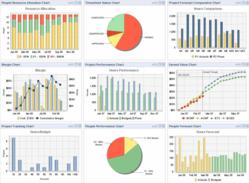 Sterling, VA (PRWEB) July 19, 2011
Unanet Technologies, the leading provider of cloud-based and on-premise software that helps project-based businesses improve visibility into project work and resource management, has been selected by Hydroid, Inc., a wholly owned subsidiary of Kongsberg Maritime, and the leading manufacturer of advanced, innovative, Autonomous Underwater Vehicles, to support their project based organization.
REMUS is an acronym for Remote Environmental Measuring Units. The REMUS vehicles are robotic systems resembling torpedoes in silhouette that navigate autonomously without any physical connection to their operator, whether on-shore or aboard a ship. They are among a class of ocean instruments known as autonomous underwater vehicles, or AUVS.
The vehicles are designed for coastal monitoring as well as survey operations, both scientific and military, at various depths in the ocean. Oceanographers use them as a vehicle to carry a wide variety of ocean instruments for data collection. Among their many accomplishments, in May 2011, a Hydroid REMUS 100 AUV aided in the discovery of the World War I German submarine U-106, which had been missing since October 1917. Additionally, in April, 2011, three Hydroid REMUS 6000 AUVs aided in the search for and discovery of wreckage from downed Air France Flight 447 nearly two and a half miles below the surface off the Atlantic Ocean off the coast of Brazil.
As a result of the complexity of Hydroid's projects where highly specialized engineering resources must be carefully planned across multiple projects, Hydroid turned to Unanet to help with these challenges. "Unanet has an extremely strong system for project and resource management for complex requirements like ours" stated Duane Fotheringham, Hydroid's Vice President of Operations. "Our current methods for project and resource planning did not allow for us to accurately forecast our engineering availability for certain skills required for upcoming project work or work that we were planning to bid. Unanet's capabilities in this area will greatly increase our visibility into our capacity for future projects as well as the allocation of our resources on our current projects."
Additionally, Fotheringham stated "we look forward to partnering with Unanet who has demonstrated strong experience in supporting companies like Hydroid, and working with government contractors to help with government project reporting compliance. Unanet's integration with the Deltek accounting system, which we also use here, was a critical benefit for us."
Fran Craig, Unanet's Founder, President and CEO, stated "we are thrilled to add Hydroid and Kongsberg Maritime to the growing list of government contractors and project-based organizations that have chosen Unanet to help them with their unique project management challenges. Hydroid is a company of outstanding people doing complex project work, and our team here at Unanet is extremely excited about this partnership."
About Unanet Technologies, Inc.
Unanet provides superior Services Automation software which maximizes staff utilization, reduces administrative costs by 90%, improves invoicing by 10X, and supports forward decision-making for improved profitability. Unanet's more than 750 customers include government contractors, consulting/services organizations, internal IT (Information Technology), and high-technology product companies. Unanet's suite includes resource management, opportunity/project management, timesheets, expense reports and collaboration with real time information and analytics, easy to use interfaces, and outstanding support. Unanet is available either as an Enterprise license (self-hosted software), or the On Demand License (hosted Software as a Service (SaaS)).
About Hydroid, Inc.
Hydroid, Inc. was established in 2001, and holds the exclusive license from the Woods Hole Oceanographic Institution for the manufacture and further development of all REMUS Autonomous Underwater Vehicle technology. In June 2008, Hydroid was acquired by Kongsberg Gruppen ASA, and is now part of a larger company that offers a full complement of AUVs, for operations in any water depth that includes the REMUS and HUGIN family of customizable autonomous underwater vehicles. Hydroid continues to invest private funds in the development of AUV technology and has significantly increased the capabilities of these systems over the past nine years.
# # #