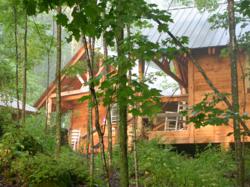 The best part is there is no need to even think about making sustainable choices while at Camp Common Ground because they do it already.
Starksboro, Vermont (PRWEB) July 19, 2011
Camp Common Ground now offers a sustainable alternative for summer vacationing. In an age where environmental issues are in the forefront, many people are trying to be greener. This isn't always easy, but people are still putting in their best effort and transforming their lives in small ways. Whether it's bringing their own reusable bags to the grocery store, composting their biodegradable trash, or shopping at farmers markets, every little bit can have an impact.
When vacationing, however, these green habits can be difficult to keep up. A flight to Europe is equivalent to driving around a Hummer for a year; staying in electricity guzzling hotels is hardly efficient; at restaurants it's often not clear where the food is grown and how sustainable it is; and what about the countless number of plastic water bottles downed while walking around air conditioned museums.
Of course, a vacation to an exotic and foreign locale can offer countless experiences for a family, but sometimes there's a need for a greener vacation. A need to uphold and support the green practices that families are trying to keep up during the rest of the year. But where can families find a truly sustainable vacation?
This is exactly what Peg Kamens and Jim Mendell were looking for when they set out to find the perfect family vacation with their three young children. Turns out that fun, sustainable vacation spots that the whole family can enjoy were not quite so common, so they began Camp Common Ground. Since it's humble beginnings at a rented facility, Camp Common Ground has blossomed into a thriving community, has gained non-profit status, and has its own land on a converted farm in Starksboro, Vermont. It is now known as Common Ground Center, a sustainable center ideal for retreats and weddings, and they still offer the unique programming that they started with 18 years ago.
At Camp Common Ground campers unload their things into cozy cabins, go park their cars, and then they have no reason to go anywhere for a whole week. There are 700 acres of conserved land to explore and hike. There are wrap-around porches to read and relax on. There are endless activities that both adults and kids can enjoy (separately and together) from yoga to watercolors to dance to violin to nature exploration. Most importantly, a warm crew of kitchen staff makes three meals a day from local and organic produce.
The best part is that there is no need to even think about making sustainable choices while at Camp Common Ground because they do it already. The facility is 100% solar powered – campers can't miss the eight solar panels in an open field when they arrive. All food scraps are composted and of course they recycle. They continually make responsible choices; for example, when their lawn mower broke down this year, they replaced it with one that runs on bio-diesel saving 10,000 pounds of carbon emissions. The program spaces are made from converted barns and most doors and windows are salvaged from recycle centers. Even the play structure is made of recycled playground parts!
Camp Common Ground has a camp-like charm, which is one of its greenest points as well as one of its biggest assets. For example, although the cabins (made with wood harvested from their own land) have real beds and mattresses, screens, and cute painted doors, they don't have electricity to cut down on Common Ground's carbon footprint. This means that families can actually see the stars and lightning bugs at night as they wander off to bed. This isn't always commonplace in today's light polluted world. No electricity in the cabins also means that common spaces are actually used in the evenings. People gather, play music and games, have fun, and make actual connections with other families and people.
Camp-like charm isn't always the most appealing vacation draw for everyone. This summer marks the inaugural year for Camp Common Ground's new Eco-Lodge. The Lodge was added to their facility to accommodate those who might not be as contented in rustic cabins, whether because of medical reasons, age, or general comfort. This beautiful building boasts seven guestrooms each with their own bathroom, electricity, and handcrafted furnishings. And, once again, for campers who choose this accommodation option there is no need to worry about making sustainable choices because the Lodge is filled with them. From solar panels on the roof to renewable building materials to water saving showerheads, there isn't a single corner of the Lodge that was overlooked
Camp Common Ground offers a family vacation that meets the sustainable trends of today's world. This summer there are four week-long sessions to choose from – to register, call 1-800-430-2667!
###