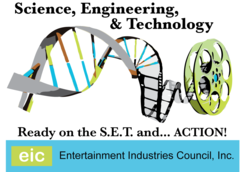 "This briefing is intended to expand creative thinking and enhance storytelling," stated EIC's Brian Dyak, President and CEO. "It is one of a series of programs we are carrying out as part of our Ready on the S.E.T. and… Action! Initiative."
Los Angeles, CA (PRWEB) July 15, 2011
The Entertainment Industries Council, Inc. (EIC), through its Entertainment and Media Communication Institute (EMCI), in collaboration with The Boeing Company and the National Science Foundation (NSF), convened a briefing at Universal Studios regarding the latest advances in science, engineering and technology research and application. The briefing, conducted for about 30 members of the Hollywood creative community, provided a panel of experts in robotics, forensics, nanotechnology and aerospace to help inspire new ways to think of these fields from a story and character standpoint.
"This briefing is intended to expand creative thinking and enhance storytelling," stated EIC's Brian Dyak, President and CEO. "It is one of a series of programs we are carrying out as part of our Ready on the S.E.T. and… Action! Initiative." Ready on the S.E.T. was established to help encourage young people to pursue studies and careers in science, engineering and technology through authentic portrayals in popular entertainment in order to ensure there is a next generation of creative problem solvers and technicians in these fields so that the U.S. can maintain its competitiveness in the global economy.
Included in the initiative is a new publication that was distributed to attendees of the briefing and that will be available at http://www.eiconline.org/ReadyOnTheSet, entitled Picture This: Engineering. Subsequent publications in the Picture This series will focus on Science and Technology. Each contains priorities identified by experts in their respective fields, along with depiction suggestions and other resource information. The initiative applies EIC's 25-year history of assisting the entertainment industry in bringing critical health and social issues into American living rooms and theaters, to bear on U.S. technological innovation. With leading industry and government research partners, EIC, Boeing and NSF provide unmatched expertise to film and TV writers, producers, researchers and creative executives on any and all science, engineering and technology topics.
Approximately 30 members of the entertainment industry attended the briefing. Among the shows represented were: "90210," "Army Wives," "NCIS," "The Finder," "CSI," "A Gifted Man," "White Collar," "Days of Our Lives," "CSI: Miami," "One Tree Hill," "Criminal Minds," "Leverage," "Body of Proof," and "CSI: Miami." The networks and studios in attendance were: NBC, ABC, CBS Television Studios, Style, Fox Television Studios, HBO, Disney Channel, and Universal Media Studios.
The panel of experts, recruited by Boeing and NSF through its Science Scene project, included: Boeing's Patrick Naughton, a senior engineer working on satellite programs; UCLA's Dr. Aydogan Ozcan, who heads up the Nano-Photonics Lab in the Electrical Engineering Department; USC's Dr. Maja Mataric, Director of the Center for Robotics and Embedded Systems and Co-Director of the Robotics Research Lab; and UCLA's Dr. Martin Short, from the Department of Mathematics, who focuses on simulation models to determine criminal hot spots and geographic profiling of serial offenders. NSF's Leslie Fink, moderated the panel.
The Ready on the S.E.T. initiative also includes the newly launched S.E.T. Awards which will take place in early November to honor productions authentically portraying science, engineering and technology. Initial members of the S.E.T. Awards Honorary Committee include Nina Tassler (CBS), Ted Harbert and Marc Graboff (NBC), Kevin Reilly (Fox), Dawn Ostroff, Stephen Friedman (MTV), Tom Calderone (VH1), Vivi Zigler (NBC Universal Digital), Emiliano Calemzuk (Shine Group), Steven Schiffman (National Geographic), Lisa Sherman (Logo), Laura Michelchyshyn (Discovery Health & Fitness), Deborah Myers (Science), Robert DeBitetto (A&E), Mitch Bainwol (RIAA), and comics icon Stan Lee.
EIC, a non-profit organization, was founded in 1983 by leaders of the entertainment industry to bring the power of the industry to bear on communication about health and social issues. The organization is considered to be the chief pioneer of entertainment advocacy outreach and one of the premiere success stories in the field of entertainment education and information resources for entertainment creators, through innovative and time-proven services and methods of "encouraging the art of making a difference" from within the entertainment industry. EIC also produces the simulcast national television special PRISM Awards Showcase which addresses accurate portrayals of substance abuse and mental illness: prevention treatment and recovery.
EIC also addresses issues such as diabetes, ADHD, foster care, women's health, firearm safety and injury prevention, sun safety and skin cancer prevention, human trafficking, terrorism and homeland security, eating disorders and obesity, seat belt use and traffic safety, and HIV/AIDS prevention. It has also launched an initiative to increase the public profile and interest in science, engineering and technology. Its web site is located at http://www.eiconline.org.
Boeing is the world's leading aerospace company and the largest manufacturer of commercial jetliners and military aircraft combined. Additionally, Boeing designs and manufactures rotorcraft, electronic and defense systems, missiles, satellites, launch vehicles and advanced information and communication systems. As a major service provider to NASA, Boeing operates the Space Shuttle and International Space Station. The company also provides numerous military and commercial airline support services. Boeing has customers in more than 90 countries around the world and is one of the largest U.S. exporters in terms of sales.
The National Science Foundation is an independent federal agency that supports fundamental research and education, as well as research facilities and instrumentation across all fields of science and engineering. Each year, NSF funds the research projects of some 200,000 top-notch scientists, engineers, educators and students at universities, laboratories and field sites throughout the United States. They include experts in scientific disciplines from literally A to Z—astronomy to zoology—who are committed to communicating with the public. Each year, NSF receives over 45,000 competitive requests for funding and makes over 11,500 new funding awards.
###