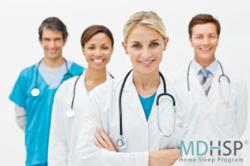 The physician's main responsibility is identifying patients at risk for sleep apnea. We do the rest.
Los Angeles, California (PRWEB) July 19, 2011
Sleep physicians and non-sleep physicians are gathering to diagnose and treat obstructive sleep apnea (OSA) via the MD Home Sleep Program (MDHSP). Spearheaded by its Medical Director, Dr. Abraham (Avi) Ishaaya, the program was designed for the convenience of both patient and physician.
MDHSP is the creation of the Aviisha Medical Institute, LLC. Started in 2009, the program is part of a full-scale effort to fight the national sleep apnea epidemic. MDHSP simplifies the diagnosis and treatment of sleep apnea while helping patients avoid expensive lab testing.
Physicians who join the program are given a variety of screening tools to identify patients at high risk for obstructive sleep apnea. "It's estimated that one out of every five Americans has sleep apnea," explained Dr. Avi. The disease leads to countless serious complications including stroke, hypertension, heart disease, diabetes, weight-gain, depression, anxiety, and even death. Dr. Avi continued, "The consensus in the medical community is that patients who snore, have daytime sleepiness, or suffer from diabetes, hypertension or heart failure should be screened for OSA immediately."
Cutting-Edge Home Sleep Testing and APAP
Using Aviisha's revolutionary technology (patent pending) physicians can prescribe home sleep tests with the click of a button. Aviisha takes over by verifying insurance and shipping the patient a home sleep test. All patients are tested using the Philips Alice PDx portable diagnostic device, an unsurpassed, state-of-the-art device that meets the standards of Type II, III and IV diagnostic tests with up to 21 channels. The test is simple to administer and produces highly accurate results.
Aviisha scores the test and sends the physician a straightforward report with diagnostic and treatment recommendations. Physicians can prescribe Auto-CPAP therapy (APAP) just as easily as they prescribe the home sleep test. The device, a Philips System One REMstar Auto-CPAP machine with A-Flex ships directly to the patient. The device automatically adjusts its air pressure according to the patient's individual needs, reducing unnecessary air pressure by up to 40%.
Aviisha also manages treatment compliance and generates periodic reports for physicians. "We've designed the program in such a way that the physician's main responsibility is identifying patients at risk for sleep apnea," said Alazar Yinbal, Aviisha's Chief Executive Officer. "We do the rest."
New Website Empowering Physicians
Physician need not be sleep specialists to participate in MDHSP. A battery of newly published webinars, articles, tools, and resources empower physicians to evaluate patients and prescribe diagnostic tests and treatment. "The program does a wonderful job of giving me the information and tools I need to feel informed and prepared to treat sleep disorders," said Dr. A.M. Mirza, a physician specializing in Internal Medicine from New York. "It's elegant and lucrative."
The website features a brand new Sleep Apnea Education section containing free articles, videos, slideshows, diagnostic tools, and resources about sleep apnea. Monthly webinars hosted by Dr. Avi highlight different aspects of sleep apnea and are open to all medical professionals. Dr. Avi explains, "We wanted to educate doctors about sleep apnea and ensure that they felt not only comfortable but confident in their medical decisions."
The hard work seems to be paying off. MDHSP physicians have reached an impressive 85% conversion ratio from home sleep test to positive diagnosis. Not only that, its current treatment compliance rate is over 74%, almost twice the industry's average.
The MD Home Sleep Program is ideal for physicians and dentists regardless of specialty. Primary care physicians, nurse practitioners, physician assistants, anesthesiologists, psychiatrists, and others have joined the program. There is no fee to join or participate and physicians are not required to buy equipment or invest money at any time. The program serves in-network, out-of-network, and Medicare patients.
For more information, visit http://www.aviisha.com/mdhsp or call an MDHSP Administrator at 877-634-7748.
###