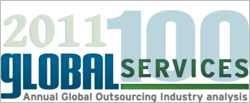 "This recognition validates our overall strategy to provide high quality IT services and access to world class talent," said Jean Cholka, CEO, Freeborders, Inc.
San Francisco, CA (PRWEB) July 18, 2011
Freeborders, Inc., a global provider of consulting, technology and outsourcing solutions to financial services and internet based businesses, today announced that Global Services and NeoGroup recognized Freeborders as one of the 2011 Global Services 100 providers for the second consecutive year. Freeborders was also named a leader in the China Offshore Delivery category.
Global Services and the NeoGroup determined the top 100 list using a scientific research methodology that analyzes over 200 different data points and several qualitative parameters. The GS100 methodology is based on four primary pillars: management excellence, customer maturity, global delivery maturity and breadth of services portfolio.
"The global services industry has gone clearly beyond the paradigm of 'more work at lesser cost'. Companies are routinely seeking business outcomes, and in some cases, new forms of business value. Service providers who can deliver on these fronts make it to the GS100 and its categories." said Ed Nair, Editor, Global Services.
"In the past year we expanded our delivery capabilities and operations in China and added new services to our portfolio," said Jean Cholka, CEO at Freeborders, "Being ranked among the 2011 Global Services 100 and being recognized as a leader for China offshore delivery validates our overall strategy to provide high quality IT services and access to world class talent ."
In the past year, Freeborders added a delivery center in Guangzhou, China, complements existing delivery centers in Shenzhen, Wuxi, and Hong Kong. The company also expanded the capabilities of its AS/400 center of excellence in Wuxi.
About Global Services
Global Services, a media platform by CyberMedia, covers strategies, best practices, and opportunities in global sourcing of ITO and BPO services. The publication reaches senior sourcing professionals in leading organizations across North America, Europe, and Asia. The Global Services brand is an integrated media platform that includes the website globalservicesmedia.com conferences, research, webinars, e-magazines, custom publishing, and various other content delivery formats.
About Global Services 100
GS100 is the annual survey and analysis of the global ITO-BPO industry done by Global Services in association with NeoGroup. The survey recognizes service provider excellence and maturity to serve the global market. The GS100 is a benchmark in the global ITO and BPO industry because of its rigorous methodology, exhaustive coverage, and value to the services buyer community. For the complete research study visit: http://microsites.globalservicesmedia.com/gs100
About NeoGroup
NeoGroup was founded in 1999 (Formerly neoIT) with the principle that talent in low cost locations and outsourcing firms, leveraged appropriately could create sustainable competitive advantage. NeoGroup helps organizations benefit from the rise of services globalization and outsourcing around the world. NeoGroup's services helps create competitive advantage through advisory, risk monitoring, and program management. http://www.neogroup.com
About Freeborders
Founded in 1999, Freeborders helps financial services, Internet services and retailing companies solve the most complex business challenges. The company provides global consulting, technology and outsourcing services through an integrated China to US delivery model. Freeborders enables clients to cost-effectively adapt their business infrastructure to market opportunities and changes, offering deep domain expertise, innovative thinking and strategic execution. Headquartered in San Francisco, the company has offices in Denver, New York, London, Stockholm, Hong Kong, Kuala Lumpur, Guangzhou, Shenzhen, and Wu Xi. To learn more, visit http://www.freeborders.com.
###