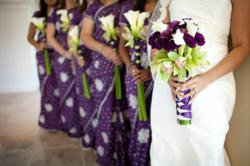 "This is a celebration of the creative talent, raw initiative and self-expression that our brides seek," says Liza Roeser Atwood, CEO and founder of FiftyFlowers.com
Ojai, CA (PRWEB) July 18, 2011
Using wholesale flowers as their medium, DIY Brides and florists display their talents in the Design Contest photo submissions. Since the competition launched on Facebook, the Win your Wedding Flowers Design Contest has exploded in popularity as thousands of DIY brides and florists compete for the grand prize.
The average cost of wedding flowers fulfilled by a florist is $1,844 to $2,062, or 8% to 10% of the total wedding budget. (Source: TheKnot). The florist plays an important role for many brides, and there are always unexpected situations that they must solve on the fly.
The cost savings for a DIY bride who wants to arrange her own flowers are substantial. The average cost of wholesale flowers for a wedding through FiftyFlowers.com is just under $300, and most brides need supplies, like vases, wire, and tape that bring the tab up another $100-$200.
Some DIY brides go big, and order more stems than they ever imagined possible by using bulk flowers through a wholesaler. There are advantages to using a florist, just as there are advantages to doing your own flowers.
How do they determine if they are willing and able to do their own flowers? Budget constraints play an important role in making the decision, as well as personal ambition, personality type and supporting members of the event.
In essence the DIY bride is assuming some of the responsibilities of the florists, such as receiving bulk flowers that need to be cared for properly. Opening wholesale flower boxes, removing the flowers from their secure bindings, trimming the stems, and putting them in fresh cool water is serious business, but once this is done, the bride and her helpers have accomplished more than half the work.
There is a good solution for all brides, but it is important that they scope their project according to their skills, interest, and temperament. Some brides have a crafty hand for creating style and feel inspired to make their wedding flowers really special, and therefore they can take on more detail and organization.
Other brides may not have the time or resources to dig into a major DIY project right before their wedding, and for those brides it is recommended to go with a simple, elegant centerpiece and bridal bouquet. Beautiful focal flowers can make a big statement standing alone – think roses, hydrangeas, tulips, standard calla lilies and daisies.
Sometimes the simplest arrangements look the best. Visit the FiftyFlowers Facebook page to see the wonderful DIY creations, and vote on your favorite arrangement.
Liza Roeser Atwood, the CEO and founder of FiftyFlowers.com wraps it up like this, "This is a celebration of the creative talent, raw initiative and self-expression that our brides seek. They want to make the flowers for themselves. Our Facebook contest brings them together to share and hopefully win!"
When asked how DIY brides do it, Mrs. Roeser Atwood, simply commented, "The key to success is to have a game plan."
###