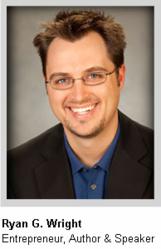 What I've learned through this program has allowed me to help my clients make $1,093,103 pure profit in the last 18 months. We're on track to increase that to $4,000,000 by the end of 2013!
Salt Lake City, UT (PRWEB) July 20, 2011
Ryan will join the ranks of other "titans of business" who have completed The Entrepreneurial Masters Program, informally known as the "Birthing of Giants".
Former graduates of this prestigious program include: Michael Dell of Dell Computers, Jim McCann founder 1-800-FLOWERS, Tomas Golisano founder of Paychex, and Ted Leonisis Vice Chairman of AOL.
The Entrepreneurial Masters Program (EMP) brings together 65 remarkable entrepreneurs – each a company Founder or Co-Founder who leads a company that grosses more than US $1 million — for four days on a suburban campus of MIT.
Jointly hosted by the world-renowned MIT Enterprise Forum and Entrepreneurs' Organization, this unique, executive educational program has been designed for three specific reasons:

To identify and bring together the next generation of entrepreneurial giants— the next Bill Gates or Richard Branson.
To provide the kind of intense blending of practice and theory that is necessary to excel in this era and to do so in a format that fits your busy schedule.
"One of the tribulations of being an entrepreneur and heading up a company is in our narrow opportunity to be coached and called on our weaknesses. My first year with EMP pulled back the curtain and showed this CEO what she didn't know. My company profit went from 4.7% to 24.3% in the 3 years I was in the program— quite a leap that led to a bidding war in the sale of my company in 2006!" – Christina Harbridge (EO Silicon Valley) – Class of 2006
For more information visit http://dohardmoney.com or call Ryan G. Wright at (800) 284-0076.
###