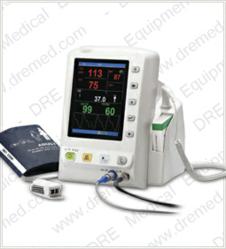 Louisville, KY (PRWEB) July 19, 2011
DRE, Inc., a premier surgical and medical equipment supplier, introduces the DRE Echo, an ultra-lightweight and portable vital signs monitor with a 10-hour battery.
The Echo's lightweight, portable design, user-friendly interface and multi-parameter functionality make it suited for outpatient care and doctor's offices. It is suitable for adult, pediatric and neonatal patients.
Optional configurations include: SpO2 only, NIBP only, NIBP + Quick Temp, SpO2 + NIBP, or SpO2 + NIBP + Quick Temp.
Other features include:
5.7-inch, high-resolution display for easy reading.
Built-in rechargeable Lithium-ion battery for 10 hours of continuous working.
Quick Temp thermometer to obtain temperature in approximately 15 seconds.
Real-time parameters measurement display with trend table for easy reviewing.
Bi-directional communications with central station by wired or wireless network.
The DRE Echo portable vital signs monitor with touchscreen display is available now from DRE. Surgeons and physicians can learn more about DRE's patient monitoring solutions, as well as other new and professionally refurbished medical products, by visiting http://www.dremed.com.
About DRE, Inc.
DRE is a premier medical and operating room equipment supplier. DRE provides a combination of new and professionally refurbished or used medical equipment to industry professionals around the globe. Recently Inc. Magazine named DRE to its Inc. 5000 list of America's fastest growing private companies.
###