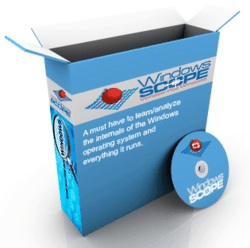 The WindowsSCOPE toolkit accelerates in-depth learning of advanced computer systems concepts and trains sophisticated methods to defeat emerging cyber threats in the 21st century.
Amherst, MA (PRWEB) July 17, 2011
BlueRISC, a leader in advanced systems for cyber-security, makes its WindowsSCOPE Pro 1.0 (http://www.windowsscope.com) computer analysis toolkit available for the educational sector. The WindowsSCOPE software is the most sophisticated and complete platform to learn about operating systems internals, understand core concepts in computers systems, and to learn to investigate cyber threats and vulnerabilities.
In addition to core aspects of computer systems and their internal workings, WindowsSCOPE enables cyber security practices and training, allowing keeping pace with advanced threat detection concepts in an intuitive manner. The toolkit is ideal in courses and training related to operating systems, computer forensics, cyber security, computer architecture, and software development. The tool is founded on many years of research and its features lead by world-leading academic researchers in computer systems.
WindowsSCOPE provides teachers a unique instrument to tie theoretical concepts to real-world demonstrations and examples that each student can explore on his/her computer. The five tutorial videos accessible on WindowsSCOPE website and articles published in its Blog show hands-on examples that can be used as is or extended into larger projects and labs by instructors.
The WindowsSCOPE Pro 1.0 tool suite enables in-depth analysis and reverse engineering of the kernel, user-space programs and drivers at a given time, through its unique and intuitive representations of information, decompiling capabilities and disassembler, and interactive graphical visualization of both virtual and physical memory content. Interactive visualization and graphing of the running processes tie user space and kernel codes together highlighting virtual memory management, process management, threading, drivers, network communications, etc.
Students/teachers are able to track down and examine persistent threats and stealth malware, verify applications' behavior in memory, and obtain a deeper knowledge about the internal functions of the Windows operating system and everything it runs. WindowsSCOPE is the only tool available to trace changes in time across all software components in computer systems.
"As increasingly complex computing technologies are entering and impacting all facets of human endeavor, cyber security practices must also be accelerated to keep pace. WindowsSCOPE Pro 1.0 is a must-have tool for advanced computer systems and cyber security training. Being able to detect new cyber threats is of paramount importance for national security", says BlueRISC Chairman and Founder Dr. C. Andras Moritz.
For more information, please visit the WindowsSCOPE website (http://www.windowsscope.com). Free 15-day trials are available to download in addition to student discounts. Full versions can be purchased from the WindowSCOPE e-store.
###