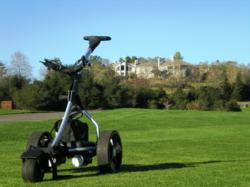 "The significant updates made to our 2011 model have led to an even better quality and design than many of the $1,000+ models."

Tom Knickerbocker
National Sales Director
Green Ray Vehicles
Santa Rosa, CA (PRWEB) July 17, 2011
Green Ray Vehicles, a California company that specializes in innovative golf trolley designs, has seen an outstanding response to its newest releases in the past couple of months. The 2011 GRV Ace model golf trolley is now seen as the premium model, while the GRV Eagle electric push trolley is now being offered as a rental option in many outlets.
"We've been amazed at the response to our golf caddies this year," says Tom Knickerbocker, Sales Director for Green Ray Vehicles. "Our GRV Ace remote controlled model is being received exactly as expected. The Ace, with the newly updated 2011 model is being sold at an industry shattering price point, and we are now calling it our premium model."
The company has seen the number of shops stocking the golf caddies grow by 50% in recent months. Several Pro Shops now have the GRV Ace remote controlled golf trolley option in stock, and they are also offering the GRV Eagle electric push trolley as a rental option.
"We're popping up all over California," added Tom as he discussed the growth of the number of outlets that are stocking GRV golf caddies. "We're also establishing a presence in states like Wyoming, Florida, Minnesota and Nevada. By next year's golf season we plan on establishing a presence in Canada and Mexico, and eventually in the UK."
Tom also encourages people to do their own research on the GRV golf trolleys. "They'll find that of all the remote controlled golf trolleys out there, they won't find a higher quality one for less than $600. The significant updates made to our 2011 model have led to an even better quality and design than many of the $1,000+ models."
The Eagle electric push caddy model compliments the remote model perfectly. It provides a premium rental option for people who don't want to invest in remote model ownership. The Eagle is ideal for a recreational golfer, is extremely light and carries a lot of torque behind its single motor. It also makes the ideal purchase for the serious golfer.
"It's becoming easier than ever to find and buy our golf trolleys," Tom added. "Thanks to the high quality of our caddies, Pro Shops and retail stores are being drawn to them and are stocking them for their customers."
Green Ray Vehicles is based in Santa Rosa, California. They stock a large range of electric vehicles including their electric golf caddies. Full details and information about all their golf trolleys can be found on their website. These include the 2011 GRV Ace model and the GRV Eagle electric push trolley. More information about Green Ray Vehicles and its full range of products can be found at http://www.greenrayvehicles.com.
###