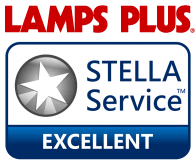 Lamps Plus is clearly very dedicated to offering a high level of service and features to its online customers.
Chatsworth, CA (PRWEB) July 21, 2011
LampsPlus.com, the leading online retailer of decorative lighting and accessories, has been thoroughly assessed by independent evaluator STELLAService, who tested and rated the effectiveness of its customer service program. After exhaustive analysis, the company has received a top rating of Excellent from STELLAService.
STELLAService's customer service ratings SEAL logo will appear directly on the Lamps Plus site, helping inform customers about the level of service provided by the online lighting store retailer. In order to reach its ranking, STELLAService conducted an in-depth evaluation of more than 300 different elements of the Lamps Plus online customer experience. The Excellent rating awarded to Lamps Plus represents one of the highest levels of service available.
"We're very proud of our rating. Our focus has always been on delivering the very best online shopping experience possible to our customers, so this is a great confirmation that we're doing something right," said Lamps Plus CEO and owner Dennis Swanson. "The customer is our top priority, bar none, so we look forward to displaying the STELLAService seal on our site."
STELLAService cited a number of areas where Lamps Plus provided an outstanding level of customer service, including its 60-day return policy, international shipping, and free shipping offers on more than 30,000 products. An active social media presence on Facebook and Twitter, no restocking fees, and American Lighting Association certified consultants were other considerations.
"Consumers have traditionally been hesitant to buy larger, more fragile items online," said JordyLeiser, CEO of STELLAService. "LampsPlus.com, with their friendly return policy, free shipping offers and knowledgeable support staff, have eased the anxiety of shoppers and created an extremely friendly shopping experience."
STELLAService evaluates companies on every level of the online shopping experience, from ease of website navigation to interaction with company customer service representatives. Noted Swanson, "We hope the STELLAService Seal will reinforce for our online customers the numerous ways they can interact and communicate with us, from our toll-free phone numbers to online live chat and email. It really represents the total level of commitment we have to the people who shop our website."
STELLAService is the first independent customer service ratings provider for online retailers. The company objectively measures, rates and highlights the service quality of participating online businesses. It was founded in 2009 with the goals of helping online shoppers make more informed buying decisions, while also helping Internet retailers grow their businesses through insightful customer service data. Aside from Lamps Plus, many of the world's other leading ecommerce sites, including Diapers.com, Zappos.com, and 1-800-Flowers.com, showcase the STELLAService SEAL on their sites.
About Lamps Plus
For over 30 years, Lamps Plus has been synonymous with excellence in the retail lighting industry. Established in 1976 Lamps Plus is the nation's largest specialty lighting company, with over 40 superstores throughout the western United States. Together, with their retail lighting stores and LampsPlus.com, the company serves over five million customers each year with the largest selection of functional and decorative indoor and outdoor lighting products. This selection includes hundreds of products available exclusively from Lamps Plus. Services include in-home lighting consultations, in-store lighting and décor workshops and installation from expert, licensed electricians. American Lighting Association certified designers are available to offer product recommendations and advice in all stores, by phone or online at Lamps Plus. For more information, please contact: PR(at)LampsPlus(dot)com
About STELLAService
Dedicated to helping consumers make more informed online shopping decisions, STELLAService is the first and only independent provider of customer service ratings for online retailers. Using its proprietary, rigorous evaluation system, STELLAService rates thousands of retailers each year across a broad array of criteria, including usability and online tools, shipping and returns and customer support. To maintain its independence and objectivity, STELLAService pays for all products it purchases and relies on its staff of trained, full-time customer experience analysts to test the companies it evaluates. Based in New York City, the company also publishes reports and other research to help companies worldwide improve their service operations.
# # #