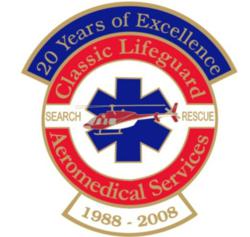 Page, AZ (PRWEB) July 17, 2011
NAAMTA (National Accreditation Alliance of Medical Transport Applications) is excited to announce the achievement of receiving Medical Transport Accreditation to CLASSIC LIFEGUARD. Since 1988, Classic Lifeguard has been providing air ambulance services in the scenic desert area of Lake Powell.
For over 23 years, Classic Lifeguard has been filling needs for emergency air medical transport services to multiple agencies, clinics, and hospitals along the Arizona/Utah border. They have built a reputation of providing emergency scene responses and inter-facility services.
Headquartered in Page, Arizona, with an additional base in Vernal, UT their service area includes a vast terrain from desert sands to the beautiful waterways in these states. They are dedicated to training their medical and aviation teams with the skills required to meet the needs of the transport.
Throughout its distinctive history, Classic Lifeguard has been proactive in safety practices by initiating the following: (sometimes ahead of industry trends)
1992 Pilot Recurrent Instrument Proficiency Training
2004 Helicopter Night Vision Goggle Operations
2005 Automatic Flight Following
2006 Moving Map GPS with Real Time On-board Weather Reporting
2006 Safety Management System
2006 Terrain Awareness Warning System
2007 Under-Water Egress Training
2009 Traffic Collision Avoidance System
The accreditation process gives public recognition to medical transport programs that meet stringent requirements for air ambulance operating excellence. Classic Lifeguard excelled in the accreditation process by showing compliance to the NAAMTA Standards, through employee interviews and on-site auditing observations.
NAAMTA reports that Classic Lifeguard has been found to be of the highest quality relating to patient care and transport safety.
NAAMTA Auditing Processes Use ISO Accreditation Guidelines
This organization is committed to developing and maintaining "best practices" through creating competitive advantages, and demonstrating market leadership, ensuring that processes are consistent, and establishing a Quality Culture of Continuous Improvement. NAAMTA's vision is to build an alliance unifying organizations in the medical transport industry.
Founded in the summer of 2009 by Executive Director Roylen Griffin, NAAMTA is in the process of acquiring accreditation from the International Standards Organization (ISO 9001:2008). ISO will work as an overseer to ensure that NAAMTA approaches each medical transport organization applying for accreditation equally.
NAAMTA is a world leader in medical transport accreditation in providing members the services and tools needed to better their organization. Through their unique website functionality, members are able to access schedules, company documentation, and online reporting anytime and anywhere.
NAAMTA is pleased to welcome the professionalism of Classic Lifeguard to its ever-growing Alliance.
# # #