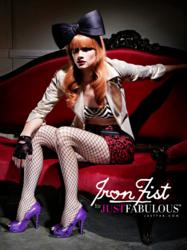 El Segundo, CA (PRWEB) July 19, 2011
JustFabulous, the monthly VIP membership program that grants members access to celebrity stylists and the latest fashion trends, has partnered with the alternative and art-inspired fashion-brand, Iron Fist, to create a special collection launching on July 19th. For a limited-time only, JustFabulous members can log into their personalized boutiques and shop this exclusively curated collection of Iron Fist shoes and handbags.
Over the past 10 years, Iron Fist has become known across the globe for its fashion-forward apparel inspired by street culture. The new collection for JustFabulous maintains the Iron Fist energy and attitude to add a touch of punk to this month's boutiques. The collection consists of 9 pairs of shoes that are a combination of bold sequin peep-toes and studded platform pumps. The 3 handbags range from a heart-shaped clutch to the perfect large tote. As with all items from JustFabulous, shoes and bags from the Iron Fist collection are $39.95 each.
"We love the passion and edge of the Iron First brand and are thrilled to share their distinctive style with our customers," says Adam Goldenberg, CEO of JustFabulous.
"JustFabulous has done a great job of keeping their members on the cutting edge of fashion, which makes Iron Fist a great fit" says Ryan Albertson, Sales and Marketing Manager for Iron Fist, "we know that JustFabulous fans will fall in love with our unique capsule collection."
JustFabulous launches the Iron Fist Collection on JustFab.com on July 19th and will be available through August 14th.
About JustFabulous
JustFabulous (http://www.JustFab.com) is a monthly VIP membership program that grants fashion lovers access to stylish and celebrity-inspired shoes, handbags and ready-to-wear pieces from the JustFabulous brand. Members are given the celebrity-stylist treatment every month as they receive a personalized selection of accessories that have been hand-picked for them by a team of style experts. All pieces from the JustFabulous brand are $39.95 and shipping is always free.
###