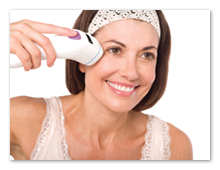 We are thrilled that the PaloVia Skin Renewing Laser has been nominated for two categories in the 2011 QVC Customer Choice Beauty Awards
(PRWEB) July 19, 2011
The PaloVia™ Skin Renewing Laser® has been nominated for the notable 2011 QVC Customer Choice Beauty Awards in two categories:
--Most Innovative/Breakthrough Product
--Best Tool
"We are thrilled that the PaloVia Skin Renewing Laser has been nominated for two categories in the 2011 QVC Customer Choice Beauty Awards," said Nancy Teumer, Global Marketing Director of Consumer Products at Palomar Medical Technologies – developers of the PaloVia laser. "As the first and only FDA-cleared, at-home laser clinically proven to reduce eye wrinkles, it truly is a breakthrough product. And because the PaloVia laser is so easy to incorporate into a woman's beauty routine – just 3-4 minutes whenever it works for her – it is also worthy of the 'Best Tool' nod."
Voting began on Thursday, July 14 and closes on Sunday, July 24 at QVC's website. The award winners will be celebrated during a televised 24-hour Beauty Event, hosted by QVC on August 27.
About Palomar Medical Technologies
The PaloVia Skin Renewing Laser was developed by Palomar Medical Technologies, Inc., a leading manufacturer of cosmetic lasers for dermatologists and plastic surgeons.
For nearly two decades, Palomar has revolutionized laser skin treatment. In the 1990s, a global team of Palomar laser physicists and esteemed dermatologists began experimenting with non-ablative fractional laser treatments — a new technique that kept the outer layer of skin in place ("non-ablative") and treated only a small portion ("fraction") of the skin with each application of light. In 2000, Palomar filed a patent application on its fractional laser technology and began selling professional systems to doctors soon thereafter. In 2009, after years of clinical studies, Palomar received FDA clearance for the first at-home fractional laser clinically proven to reduce fine lines and wrinkles around the eyes.
For more information about the PaloVia Skin Renewing Laser, visit palovia.com.
PaloVia Customer Care
1-866-PALOVIA (1-866-725-6842)
info(at)palovia(dot)com
###