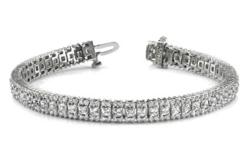 San Diego, CA (PRWEB) July 15, 2011
Anjolee announced the option to add a third party certificate issued by the International Gemological Information to every diamond jewelry item sold on http://www.Anjolee.com. Anjolee currently offers the largest online selection of diamond bracelet designs and other fine jewelry that can be customized according to customers' preferences. Choices for customizing any jewelry item include the metal type (10k, 14k, 18k yellow or white gold or platinum), carat size, diamond color and clarity, and length and the brand new option to add an official I.G.I. appraisal report with the order.
Simply use the check-box under Step 3 of the customization process to add a third party diamond certificate to an order. The price for the certificate is additional, and is shown on the order screen as a separate line item. If a diamond certificate is added to an order, the delivery time is changed to approximately one full week. Anjolee typically requires 3 business days for manufacturing with the third party certification process for each product taking an average of 3-5 additional days. Once an item is sent to the I.G.I. laboratories for inspection, it is certified and sent back to Anjolee. The complete order is then shipped to the customer, with the product and certificate.
Third party diamond certificates are often an affordable way to add extra insurance to your valuable diamond tennis bracelet or other diamond jewelry purchase. When browsing the website for diamond bracelets, wedding and bridal rings, diamond earrings or necklaces, be sure to check the diamond education center, renovated in July of 2011.
Please note: All orders come standard with the Anjolee 'Certificate of Authenticity', which states the complete details of the order, listing the product specifications and price based on the website. There is no extra charge for this certificate as it is part of every order.
###