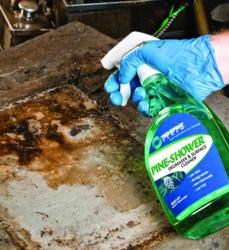 Pine-Shower eliminates the green-versus-performance trade-off -- it has it all!
Amarillo, TX (PRWEB) July 17, 2011
Techspray, a leading manufacturer of precision cleaners for electronics, and industrial and electrical applications, is excited to announce their ecologically-friendly Techspray Renew Pine-Shower Degreaser & Surface Cleaner.
Leveraging the cleaning power of pine, Pine-Shower quickly removes grease and other soils, and leaves a non-oily finish. Pine-Shower does not contain butyl cellosolve, which is common in many degreasers and surface cleaners, and has potential negative health effects. Under California guidelines (CARB), Pine-Shower has zero VOC, and has a less than 3% VOC under EPA guidelines.
Pine-Shower is economical and considered ready-to-use, but can be diluted for light surface and equipment cleaning. Pine-Shower Cleaner is fully compliant with CARB (California Air Resource Board) requirements.
Also compliant with European REACH (Registration, Evaluation, Authorization & Restriction of Chemicals) and WEEE (Waste Electrical and Electronic Equipment Directive) initiatives. It does not contain RoHS (Restriction of Hazardous Substances) restricted substances, SVHC (Substances of Very High Concern) list substances, or halides.
Techspray, a division of Illinois Tool Works (ITW), is a leading manufacturer of chemical products for the electronics industry. Techspray formulates, blends, and packages a wide variety of chemicals and assorted support products for the electronics industry, heavy industry, and plant and equipment maintenance including degreasers, defluxers, conformal coating, dusters and water-based cleaners. More information can be found at http://www.techspray.com.
###