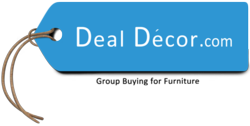 Deal Décor is going to turn traditional e-commerce upside down and change group-buying forever...
San Francisco, CA (PRWEB) July 18, 2011
Deal Décor.com is America's first group-buying platform for patient and savvy shoppers to enjoy steep discounts on home décor and furniture products (30-70% savings) directly from manufacturers in Asia.
UNLIKE GROUPON

Unlike Groupon, Living Social, and other traditional group-buying sites that promote coupons, Deal Décor.com promotes factory direct deals on home & garden products, therefore carving out a new and unique niche within the fast growing group-buying industry in America that is expected to grow by 138% to $2.66 billion in 2011 as reported by TechCrunch.com.
Deal Décor.com leverages the collective bargaining power of consumers by aggregating individual purchases from a city into a single order placed with a factory in Asia. This business model allows consumers to save hundreds of dollars on their purchase when compared to the lowest retail price for the same item on the market. For example, Deal Décor.com will be selling a three piece sofa sectional for $399, which is at least $300 less than the lowest price listed on Amazon.com for the same exact item.
PRICE TRANSPARENCY

One major point of differentiation is Deal Décor.com's unique price transparency program that provides consumers with full cost visibility behind the company's supply chain.
Each deal will share with customers a product's factory cost, transportation cost from Asia, and the company's dollar margins on each unit sold. Deal Décor.com will be the first company in the world to offer such levels of transparency.
GROWTH PLANS

Deal Décor.com plans to launch its first deal in the San Francisco Bay Area in September 2011 before aggressively expanding to the top 20 metropolitan cities in America over the next 18 months. To finance this growth the company is speaking to a number of strategic investors and partners.
Deal Décor.com is founded by former management consultants (Boston Consulting Group, IBM Global Business Services) and furniture retail insiders (Home Depot, Target, Home Decorators Collection), and is led by CEO Gregory Lok and President Craig Sakuma.
# # #