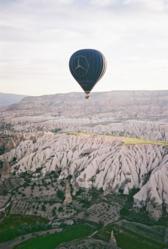 With housing, flights, health insurance, and a salary, many Americans find teaching abroad is a fun way to ride out the economic downturn for a year or two.
Tampa, FL (PRWEB) July 19, 2011
Educators Overseas International Teacher Placement today reports that Americans, Canadians, British, and Australians who need a job or want to travel abroad (or both) are finding a solution in teaching abroad. Many people don't realize how easy it is to qualify to teach English as a Second Language (ESL). According to Shannon Bland, Applicant Liaison at Educators Overseas, "Native English speakers just need a Bachelor's degree to get a TEFL certificate to teach ESL." Shannon notes that teaching experience isn't necessary but is an advantage, and points out that, "with so many churches and civic organizations in the U.S. running charity programs to teach ESL to the community, it is easier than ever to get experience and even volunteer experience counts as experience." Indeed, with housing, flights, health insurance, and a salary, teaching for a year abroad might be a fun way to ride out the economic downturn for a year or two.
Despite the benefits, teaching abroad isn't for everyone. "People really need to enjoy travel and adventure" notes Sarah Taylor, an English teacher abroad who found a job through Educators Overseas. Also, it helps if you are single, as employing schools will generally not pay for accompanying partners or children, although some will permit partners to come at the teacher's expense.
In addition to English teaching jobs abroad, Educators Overseas also finds jobs for certified K-12 teachers in primary and secondary international schools abroad. K-12 teachers at international schools often get paid more than ESL teachers, but their commitment is often longer (one year is standard for ESL teachers while two years is the norm for K-12 teachers).
Educators Overseas is one of America's premier international teacher recruiting companies and has been helping international teachers find jobs in schools around the world since 2007. Those interested in teaching and living abroad can learn more on the company's website - http://www.educatorsoverseas.com.
###