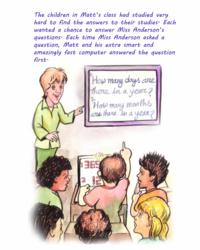 "One of the best new children's books for encouraging early academic development," said Dr. Philip G. Lewis, M.D., MPH, CEO & Founder
Hunterdon County, NJ (PRWEB) July 17, 2011
Matt's Extra Smart and Amazingly Fast Computer! a new children's book, empowers children to think for themselves. This delightful book just may be the very best thing to happen to elementary schools this season. An educational read which may encourage children to pick up a book instead of a laptop at home. A nice thought. This new best seller teaches the main character Matt, that he may not always be able to rely on his extra smart and amazingly fast computer... that he must think for himself!
"Books have always been a passion of mine... Although we read every night, I had noticed that my sons, Ryan and Jack were partial to their laptops... so I decided to write a story with the youngest as a way of encouraging him to find interesting facts and answers within books... not just press 'search' on his laptop," said Jacquelyn Quattro who wrote Matt's Extra Smart and Amazingly Fast Computer, with her son Jack. "Jack, a student at Desmare Elementary school, helped with editing and the storyline, and has authored his very own book; 'Jack's Smelly Noodles!'..."
"This book has an empowering storyline, and cheerful engaging illustrations," said Sky Blue, popular children's book author. "This is exactly what we need in our classrooms right now," said Shay Gautier, Director of Seed Time Harvest Christian Day Camp when presented with copies of the book for the camp. "...in love with the illustrations and concept," said Anita Lovely, award winning author.
"One of the best new children's books for encouraging early academic development," said Dr. Philip G. Lewis, M.D., MPH, CEO & Founder, Sts. Theodore & Frances Preventive Medicine.
"An amazingly thoughtful children's book that is both relevant in today's high tech classrooms and extremely useful in developing critical thinking skills," said Gail R. Lewis, CEO & President of Go Foward Education Foundation and former Principal, Living Faith Christian Academy.
"This book should be in every elementary classroom and daycare center in the nation," said 94 year old Mrs. Grace Foster-Marshall, a world class sprinter who has 25 grandchildren. We agree.
Jacquelyn Quattro has three children, and resides in Hunterdon County, New Jersey with her husband and school age children.
All of Jacquelyn Quattro's books are available for immediate download on Barnes & Noble, Nook and Amazon's Kindle edition.
# # #