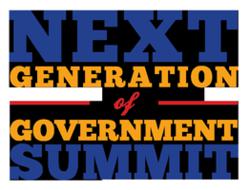 This was one of the most well thought out and organized conferences I have ever attended and I overheard several people saying the same thing. Great job!
- Rebecca Roggenbuck of USDA
Washington, DC (PRWEB) July 18, 2011
The need to ensure the next generation of government leaders is prepared has never been greater.
According to a 2006 survey by the U.S. Office of Personnel Management, six out of every 10 federal employees—including 90 percent of senior executives—will be eligible to retire over the next 10 years, and 40 percent are likely to retire when they first reach eligibility.
That's why GovLoop, the knowledge network for government, and Young Government Leaders, the leading professional group for young government employees, have teamed up to present the second annual Next Generation of Government Summit on July 28-29, 2011. The summit, which has been approved by the Office of Personnel Management, will seek to educate and inspire young government professionals.
This conference, designed by and for emerging government leaders, offers:
* Training sessions to develop the critical skills needed by rising leaders;
* Career advice for young leaders from top senior government officials;
* Best practices across government to replicate in agencies;
* Networking opportunities to build career networks; and
* Speakers to energize and inspire a younger generation to public service.
Last year's summit attracted more than 300 rising government leaders and featured speakers including Obama administration political appointees and New York Times bestselling authors.
More than 500 attendees are expected at this year's summit on July 28-29, 2011 from agencies like the Office of Personnel Management, the Department of Homeland Security, the General Services Administration, the National Institutes of Health and others.
Sessions at the 2011 summit include:
* Leading From Your Level – Managing Up & Sideways
* Public Sector is Multi-Sector: Tips on Navigating and Managing Across Sectors
* Feeling Non-Essential? Tips from Zappos on Delivering Happiness at Work
* Navigating Dunder Mifflin: The Skills No One Teaches You
To read what attendees and speakers are saying about the summit, visit the Next Generation of Government Group on GovLoop and the official conference website at nextgengovt.com.
# # #