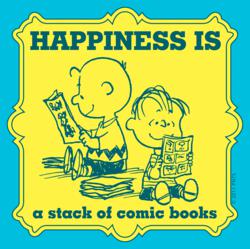 The quicker fans "Like" Snoopy at www.facebook.com/snoopy, the sooner the all new content will be unveiled!
San Diego, CA (PRWEB) July 18, 2011
2011 is "The Year of Happiness Is…," dedicated to celebrating the simple pleasures in life—like warm blankets and barefoot walks through grass. But for many PEANUTS fans, happiness also means attending the world famous San Diego Comic-Con, July 21–24. Amid all the event's other festivities, there will be many fun-filled PEANUTS activities and offerings at the PEANUTS booth #1637 and beyond throughout the entire week. They include:

A scavenger hunt! The PEANUTS booth's first 200 visitors each day will be given a card of clues which will take them to various Con booths, such as Dark Horse #2615, Fantagraphics #1718 and Hallmark #2913H, which feature Snoopy predominately in their line-ups. The first 50 to correctly complete all the challenges will receive an adorable PEANUTS lunch tote—perfect for carrying those snacks around while on the convention floor.
Commemorative "Reunite" pins! Celebrate the beginning—or the continuation—of a beautiful friendship with the PEANUTS gang by picking up one of these special Comic-Con collectible pins, available in different and unique designs each day.
All new, exclusive digital content! As a gift to the hundreds of thousands of Snoopy Facebook and Twitter followers around the world (not just those at the show), PEANUTS will be unlocking all-new content in a special fan pack in celebration of Comic-Con. The quicker fans "Like" Snoopy at http://www.facebook.com/snoopy, the sooner the content will be unveiled. Stay tuned for more details!
A panel discussion! On the 24th from 3:00pm–4:00pm in Room 30CDE, PEANUTS will host "How to Draw Snoopy and His Friends," where artists Andy Beall ("Happiness Is a Warm Blanket," "Up," "Wall-E") and Bob and Vicki Scott ("Happiness Is a Warm Blanket" graphic novel) will show you how to turn simple shapes into your favorite PEANUTS characters—and maybe even how to kick that football!
Sneak Peeks at New PEANUTS Merchandise! Check out Hallmark's all new ornaments, the latest from Fantagraphics and "The Complete PEANUTS," and new figurines from Dark Horse.
PEANUTS Photo Ops! PEANUTS syndication partner Universal Uclick will feature a "Get Into Comics" photo opp at booth #1500. Fans can get their picture taken as if they're really inside a PEANUTS comic strip.
Graphic novel signing sessions! During the convention, Bob and Vicki Scott, two of the illustrators behind the gorgeous "Happiness is a Warm Blanket" graphic novel, will be available to sign the special Comic-Con edition of the book. Look out for them on Saturday from 1:30pm - 2:30pm and Sunday 11:00am -12:00 noon at the PEANUTS booth, and stop by BOOM! Studio's booth # 2743 for signings there as well. The Scotts are supremely talented artists whose credits also include "Toy Story 3" and "The Incredibles."
Throughout the event, booth activities will be tweeted with the hashtag #SnoopySDCC, so attending fans can keep up with all the goings-on. Additionally, attending fans are encouraged to join the fun by tagging us in their photos on Facebook and Twitter.
Even if you can't make it to Comic-Con, Snoopy encourages everyone to join the Happiness Is party by making videos documenting what "Happiness Is" to you and uploading them to the PEANUTS Facebook, YouTube, or Twitter pages, for your chance to be featured on the PEANUTS YouTube channel or Facebook page, or on PEANUTS.com.
About PEANUTS Worldwide
The PEANUTS characters and related intellectual property are owned by Peanuts Worldwide LLC, a joint venture owned 80% by Iconix Brand Group, Inc. and 20% by members of the Charles M. Schulz family. Iconix Brand Group, Inc. owns, licenses and markets a growing portfolio of consumer brands including CANDIE'S (R), BONGO (R), BADGLEY MISCHKA (R), JOE BOXER (R), RAMPAGE (R), MUDD (R), LONDON FOG (R), MOSSIMO (R), OCEAN PACIFIC(R), DANSKIN (R), ROCA WEAR(R), CANNON (R), ROYAL VELVET (R), FIELDCREST (R), CHARISMA (R), STARTER (R) and WAVERLY (R). In addition, Iconix owns an interest in the ARTFUL DODGER (R), ED HARDY (R), ECKO (R), MARC ECKO (R), ZOO YORK (R), MATERIAL GIRL(TM), and PEANUTS brands. The Company licenses its brands to a network of leading retailers and manufacturers that touch every major segment of retail distribution from the luxury market to the mass market in both the U.S. and worldwide. Through its in-house business development, merchandising, advertising and public relations departments Iconix manages its brands to drive greater consumer awareness and equity.
###