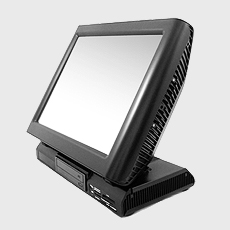 . The Photon allows fast and easy photo sharing -- plain and simple. Users predict it will shortly render photo booth and digital camera rentals obsolete."
Fredon, NJ (PRWEB) July 27, 2011
Until now, people wishing to collect and save galleries of sentimental, candid and valuable photo memories from large gatherings and events have been forced to rely on disposable cameras, digital camera rentals and photo booths -- and to wait days or weeks for the actual collections. The portable and easy-to-use Photon photo sharing kiosk provides a fun, innovative and immediate alternative.
Developed by Newpro Development, the Photon kiosk is compact, light-weight -- and a desirable accompaniment to weddings, Bat and Bar Mitzvahs, company events, family reunions, baby showers, graduation parties, and any event bringing together numerous people and cameras. The approximate size of a 17" computer monitor, it boasts touch screen controls and the ability to read all standard memory cards. Its software and interface is so simple that, according to Newpro Development President Donald A. Vitez, "even grandparents quickly figure it out!"
Vitez explains, "Today, nearly everyone attending a special event has a digital camera or camera phone, and each individual captures their own unique moments and memories. The Photon allows fast and easy photo sharing -- plain and simple. Users predict it will shortly render photo booth and digital camera rentals obsolete."
The Photon can collect up to 1,500 selected images from guests own digital cameras-- downloading them quickly from their memory cards and burning the final collection to a laser-engraved DVD. Immediately following the event, the guests of honor(s) or event host(s) can view the DVD and enjoy the collection as a slide show.
Newpro Development is now marketing the product to hotels and resorts, bed and breakfasts, event halls, professional photographers and event coordinators, for a special introductory price of $1,995. With the Photon as an event attraction and selling point, buyers are certain to recoup the product cost in just a few events.
To view a demonstration of the Photon, visit http://www.youtube.com/watch?v=epttzfaOSVg
About Newpro Development, LLC
Based in Fredon, NJ, Newpro Development (http://www.NewproDevelopment.com) is engaged in the development of new and innovative products for the North American market. The company develops leading-edge technology products with a mind toward the future. Patent Pending products and products in development include numerous interactive retail and entertainment kiosks, For more information, product demonstrations, investor information, and/or to arrange an interview, contact: Donald Vitez, (973) 383-3928 or media(at)NewproDevelopment(dot)com.
###