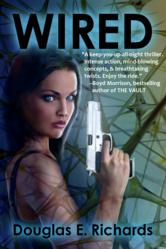 A keep-you-up-all-night thriller. Intense action, mind-blowing concepts, & breathtaking twists. Enjoy the ride. --Boyd Morrison, bestselling author of THE VAULT.
New York, NY (PRWEB) July 19, 2011
Former genetic engineer and biotech executive, Douglas E. Richards, has gone back to his roots with WIRED, a new thriller combining pulse-pounding action, mind-blowing science, and intriguing concepts that readers will be contemplating long after they've read the last page.
"If you're looking for a slam-bang, keep-you-up-all-night thriller, crack open WIRED and enjoy the ride," says bestselling thriller author Boyd Morrison. "This adventure is crammed with intense action, mind-blowing concepts, and breathtaking twists."
In WIRED, Kira Miller is a brilliant genetic engineer who discovers how to temporarily achieve savant-like capabilities in all areas of thought and creativity. But what if this transcendent level of intelligence brings with it a ruthless megalomania?
Former special-forces operative David Desh is reactivated for one last mission: to find Kira Miller, the enigmatic genius behind a bioterror plot that threatens millions. But when Desh learns that the bioterror plot is just the tip of the iceberg, he is thrust into a byzantine maze of deception and intrigue, and he becomes a key player in a deadly game he can't begin to understand. A game that is certain to have a dramatic impact on the future course of human history. . .
Author Douglas E. Richards has written for National Geographic, The Journal of Virology, the BBC, and many others. In honor of his work, Richards was invited to San Diego Comic-Con International in 2010, along with such icons as Stan Lee and Ray Bradbury, as a "special guest," where he signed books and presented on the art of writing can't-put-down thrillers. "My mission with WIRED was to write an intelligent, mainstream thriller that would keep readers racing through the pages," says Richards, "but also one containing thought-provoking concepts that readers would long remember. I couldn't be happier with how the book turned out."
For a limited time, WIRED is being offered by all major eBook retailers for the introductory price of only $.99.
"WIRED is a brilliant concept," adds Boyd Morrison. "I was blown away."
For more information visit the author's official website below, or check out the "Wall" on his Facebook page, Douglas E. Richards Author
Links to WIRED on Amazon, B&N.com, eBooks.com
# # #