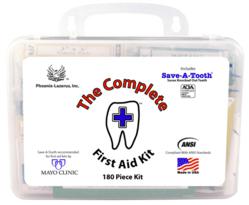 Every home, school, sports team bag and business needs a well stocked first aid kit with a Save-A-Tooth system
(PRWEB) July 18, 2011
Phoenix-Lazerus (http://www.saveatooth.com/), a leading first aid kit distributor, is now producing high quality first aid kits, "The Complete First Aid Kits" (http://www.amazon.com/Complete-First--Tooth-Exceeds-Standards) in the USA with components made strictly in the USA at a price that is competitive with first aid kits composed primarily of parts imported from China.
Every household, business and school needs a well-stocked first aid kit according to most leading medical institutions. However, "Most first aid kits are just a bunch of band-aids," says Dr. Henry Rankow, diplomate of the American Board of Endodontics". "The Complete first aid kit is the most comprehensive in its price range containing components such as the Save-A-Tooth® emergency tooth preserving system, a wide assortment of bandages, a space blanket and a light stick for night time emergencies."
It is a myth that all products produced in China or overseas are less expensive than those made in the USA. The fact is that most imported first aid kits are often "cheaper" than those made in the USA is true, but by cheaper what is true is that they are poorly made.
According to the Boston Consulting Group, Chinese wages have increased dramatically, 17%, over the last few years. What this means is that the only way that they can hold prices down is by decreasing the quality of their products to compensate.
The Complete First Aid kit is composed of high quality components that are manufactured by American companies that are far superior to foreign made components. For example, the Chinese made gauze found in most first aid kits, is made of a woven material with looser thread. The gauze in the Complete kit is a non-woven material, with no loose threads. A single piece, four ply, of the non-woven gauze in the Complete Kit has the same absorbent capabilities of a twelve ply of Chinese Gauze.
"American made first aid kit components are a much better value than those made in foreign countries," says Dan Gregory, National Sales director of Certified Safety Manufacturers". "If a first aid kit buyer understands the difference between price and value, he or she will see that USA first aid kits are essentially less expensive."
In addition, the Complete first aid kit is manufactured under strict FDA and Good Manufacturing Practice (GMP) regulated standards. A buyer of a foreign made kit has no idea what potentially toxic consequences may result from the components that are manufactured under no standards.
The Complete is the only first aid kit that contains the Save-A-Tooth® system which can save knocked out teeth. "Knocked out teeth can be saved but must be placed in a Save-A-Tooth® system within an hour of the accident", says Dr. Paul Krasner, Clinical Professor of Dentistry at Temple School of Dentistry." It is a necessary component of every comprehensive first aid kit and is recommended for inclusion in first aid kits by most leading medical and healthcare institutions and dental authorities and has the American Dental Association Seal of Acceptance.
By purchasing the "Complete First Aid Kit", a buyer is purchasing a more comprehensive, safer, higher quality and less expensive product than any imported first aid kit.
# # #