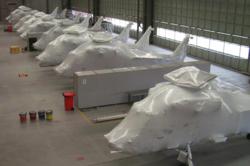 "The concept saves time, money, handling, leaks, cleaning, and protects against deterioration, damage, and returns."
Braintree, MA (PRWEB) July 19, 2011
Liberty Packaging Co.'s Intercept Technology Group colleague, Under-Raps of Australia, won the 2010 Silver prize in the "Viscount Plastics Packaging for Industry Award" sponsored by Packaging Council of Australia. This award category is for outstanding developments in industrial packaging and includes packaging in the following categories: bulk transport, catering (from receptions to airplanes), manufacturing components for further assembly, machinery, hospital and medical supplies, supermarkets and others. Judging is based on technical, logistical and/or functional developments which promote efficiency, sustainability and/or reduce environmental impact. "The Award recipients in the Viscount Plastics Packaging for Industry Award are congratulated for capturing the true spirit of what this Award is about - innovation, invention and technical advancement in the industrial environment," noted Senior Judge Bill Seppelt, Packaging Council of Australia.
The Intercept Technology Group consists of Liberty Packaging, Under-Raps, and other companies worldwide, dedicated to the advancement of the Intercept Technology™ protective packaging. The award-winning package: "Under-Raps Break Bulk Packaging" combined heat shrink technology with large format anti-corrosion film (Intercept) epitomizes the Intercept tool; Under-Raps designed and developed a valuable solution for the packaging of large complex objects like helicopters, marine craft, mining equipment and sensitive electronic control rooms. Packaging Council of Australia CEO Gavin Williams added, "This year's Australian Packaging Awards, for industry, demonstrate that packaging innovation is alive and well and is delivering benefits to customers, consumers and the broader Australian community."
The Packaging Council of Australia's Award Description for the Under-Raps Award is as follows: "In Australia, large equipment is often trucked over gravel roads, loaded in salty ports and delivered to dusty mining sites. The anti-corrosion LDPE film protects against dust, rain, rust, insects and even adds a quarantine barrier. The use of highest quality 'first-oil' plastic is offset in part by the elimination of anti-corrosion cleaning processes required previously. The inclusion of a unique zipper feature means packs can be opened and resealed for forklift use, inspection or fumigation access. This eliminates the need to cut and reseal or rewrap during loading operations. The concept saves time, money, handling, leaks, cleaning, and protects against deterioration, damage, and returns. The logistical improvement is significant and judges were impressed by the creative approach and technical ingenuity demonstrated by this entry."
About Under-Raps:
Under-Raps exclusively imports the Corrosion Intercept and Static Intercept ranges of anti-corrosion packaging products into Australia and New Zealand and is highly regarded as a packaging leader within the oil and gas industry in Australia, New Zealand and the Philippines.
About Liberty Packaging:
Liberty Packaging Co., Inc., provides Intercept Technology corrosion and static protection products to large and small manufacturing operations on the East Coast, USA, as well as packing and crating suppliers, general distributors, medical and special packaging suppliers.
###