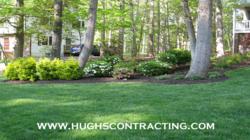 If you have work to do, contract Hugh's to do the job for you!
Stafford, VA (PRWEB) July 19, 2011
Hugh's Contracting LLC is a new and affordable option for Virginia homeowners and businesses in need of a wide variety of property services, from custom landscaping to maintenance and repairs.
"For most homeowners and businesses, we're a one-stop shop for all their needs," said Kenneth Hugh Shepard Owner of Hugh's Contracting LLC "We handle it all – and we do it with outstanding customer care and everyday low prices." With Hugh's Contracting, you'll get unsurpassed quality and save money every step of the way."
Hugh's Contracting not only means affordability and reliability but also quality craftsmanship and ongoing consultation with each client.
Hugh's can turn your yard into a landscaping masterpiece with customized designs that you and your family will enjoy for years to come.
"With beautiful plantings, dramatic walkways, patios and retaining walls, we'll turn your home into a neighborhood showplace," said Shepard.
Hugh's can also do the same for your business landscape, turning it into a natural welcome mat for customers. "We'll give your business or office a curb appeal that nobody will just zip by," said Shepard.
Hugh's Contracting also means the same commitment to excellence in keeping your yard in tip-top shape year-round with regular lawn mowing and edging, mulching, composting, fertilizer and lime treatments, dirt, stone and mulch deliveries, drainage problems, brush and debris removal, small tree removal, leaf and snow removal and storm and seasonal clean-ups.
10 percent (10%) off your first three lawn mowing/edging visits from Hugh's Contracting, with the signing of a new seasonal mowing contract. "It's a chance for you to get to know us at a discount off our already affordable prices," said Shepard. "We're that confident you're going to like what you see."
Indeed, the quality craftsmanship that defines Hugh's Contracting LLC is as much a part of every service it offers – outdoors or indoors. In addition to being a full-service landscaping company, Hugh's Contracting can handle most of your home improvement and maintenance needs, from drywall repairs to interior painting and staining, gutter cleaning and general "handyman" tasks, even flat-screen TV mounting as part of home theater installations.
"If you've got work to do, contract Hugh's to do the job for you," said Shepard. "And remember that when you hire Hugh's, you won't break your back – or the bank!"
Hugh's Contracting is family-owned and operated, licensed through the State Corporation Commission of Virginia and serving residential and commercial customers throughout the greater Northern Virginia area.
Give Hugh's Contracting LLC a call to schedule your FREE ESTIMATE today! Call: (540) 419-5025. Or contact Hugh's at hughsbest(at)gmail(dot)com.
And be sure to visit our website http://www.hughscontracting.com and
"Like" Hugh's Contracting on Facebook at http://www.facebook.com/hughscontracting, where you can also view "Before & After" photo galleries.
###