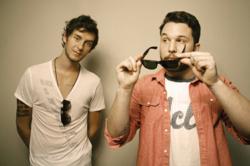 Los Angeles, CA (PRWEB) July 18, 2011
Today, music fans can download the newly released single "Miracle" from The Dirty Tees featuring pop legend Natasha Bedingfield. July 14 marks the official release of the single "Miracle" by the Toronto house music duo The Dirty Tees and award-winning British pop artist Natasha Bedingfield, which is currently available for free. This cover of the smash hit by German dance group Fragma is the result of an ongoing collaboration with Bedingfield and her production team.
The Dirty Tees might be the new kids on the block, but their unique music sound is far from the studio of fledgling DJs rocking in their Toronto basements. The career of this emerging dance band took a major turn in 2011 when they sent their debut single, "Where We Are" to the star's husband with the hopes of breaking into the scene. One year after laying down their first tracks, The Dirty Tees hit it big with a personal invitation to work with Bedingfield and her writers in Los Angeles.
Now working with Bedingfield, The Dirty Tees have been recording in the studios of L.A. for the past three months. The band's first trip to L.A. resulted in a whirlwind recording session that covered six songs in a brief five-day trip. The single "Miracle" is the result of months of collaborative efforts between The Dirty Tees, Bedingfield. The alternative/dance duo, comprised of Toronto-natives Ryan Freeman and Grant Peters, has expanded their sound with the addition of rocking guitar tracks that emphasize the alternative sound that has been in the band's music since the beginning.
During their first three months in L.A., the band has taken their lyrics, vocal tracks and melodies to the next level with the help of Bedingfield's production company and management team. Although the band has experienced great success in their collaboration with Bedingfield, they are open to working with other artists and producers as well.
Music fans aren't the only ones anticipating new work from The Dirty Tees. The band has also expressed a lot of excitement to see how industry and music fans on the street react to their new school style that combines elements from early electro groups, house music and the alternative rock scene.
In a little more than 12 months, The Dirty Tees have gone from Toronto to L.A. and beyond. Music fans can look forward to many more grind-worthy tracks from this powerhouse duo. Anyone who is a fan of The Dirty Tees or has never heard their unique style should download this free version of "Miracle" and uncover this revamped summer music favorite.
Visit The dirty tees download site to learn more about the band's latest happenings and to download the free track "Miracle" offered by the Dirty Tees and Natasha Bedingfield.
# # #