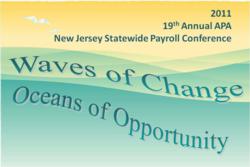 I enjoyed my first state conference and found the sessions to be informative and relevant to our business.
Iselin, NJ (PRWEB) July 19, 2011
The New Jersey Chapters of the American Payroll Association are pleased to announce the 19th Annual New Jersey Statewide Payroll Conference will be held on September 16, 2011 at the Renaissance Woodbridge Hotel in Iselin, NJ.
The payroll conference theme this year is "Waves of Change Oceans of Opportunity" and will provide a day of payroll education covering leadership, legislative, and technological changes. The speakers, which include representatives from the American Payroll Association, Internal Revenue Service, and the Social Security Administration, will keep payroll professionals up to date with the latest regulatory and legislative updates and assist in payroll tax compliance. 6 RCH credits will be awarded to those attending. Human resource and tax professionals will also benefit from attending the conference.
The registration fee is $225 for the conference. Save $30 if you complete your registration by August 15th. Registration and payment may be done online and further information may be found at the conference website.
The conference will be held at the Renaissance Woodbridge Hotel, 515 US Highway 1 South, Iselin, New Jersey 08830.
###