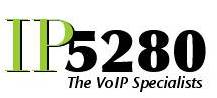 "We're built for the next 100 years of communications," said Jim King, Chief Financial Officer of IP5280 Communications.
Englewood, CO (PRWEB) July 18, 2011
IP5280 Communications, Colorado's leading provider of hosted-VoIP and cloud-based communication services, landed #8 today for its revenue category in the annual Fastest-Growing Private Companies survey conducted by the Denver Business Journal, featured in the newspaper's July 15-21, 2011 edition. IP5280 took its honours in the survey's Flight III category, posting an impressive 74.76% growth in revenue over the three-year (2008-2010) ranking period.
"Our tremendous growth is a result of paying close attention to the needs of our customers, and adhering to strict financial business practices that allow us to operate a highly efficient and financially stable company," said Jim King, Chief Financial Officer of IP5280 Communications. "Our leadership team has the critical experience necessary to operate in a fast-growing dynamic market; we're built for the next 100 years of communications."
Companies responded to a survey by the Denver Business Journal (DBJ), and the top ten revenue-growth private companies were ranked in each of five business-size "flights." The DBJ partners with the accounting firm Anton Collins Mitchell in producing its annual survey and rankings of the Fastest-Growing Private Companies.
"In addition to our eighth fastest-growing private company ranking, we're proud to be the fastest-growing 'cloud' communications company and to be among so many innovative companies spawning new growth in the Denver market," said Jeffrey Pearl, co-founder and managing partner of IP5280. "We would especially like to thank the thousands of enterprise users who have already made the switch to IP5280 VoIP services."
About IP5280 Communications
IP5280 Communications is a cloud-based global IP communication provider specializing in VoIP and converged IP voice, video and data services for business customers. Trusted by thousands of business enterprise users, communication agents, partners and wholesalers of IP managed services throughout the world; IP5280 offers carrier-class communications for businesses large and small, with significant savings over traditional phone company business services. Recognized by Inc. Magazine as a part of the prestigious 2010 Inc500 list as one of the country's fastest growing companies, selected by ColoradoBiz Magazine as one of the top 2 Best Companies to Work For in Colorado in 2010, and proudly ranked by the magazine as a part of the elite Colorado TOP250 Private Companies in Colorado, IP5280 provides businesses the most advanced IP solutions to meet a variety of networking and communication needs. See more at http://www.ip5280.com.
# # #