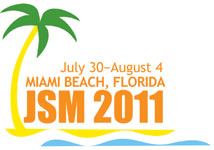 Alexandria, VA (PRWEB) July 18, 2011
From which teams get included in March Madness, to referee bias, to why Olympic times are better today than in the past, statisticians from across the United States and around the globe will conduct sessions on current issues in sports at the annual Joint Statistical Meetings (JSM). Approximately 5,500 statisticians, many of them sports enthusiasts, will arrive in Miami Beach by July 30 to attend the world's largest annual gathering of statisticians and participate in many of the sessions on statistics in sports and other topics.
The American Statistical Association's (ASA) Section on Sports Statistics is sponsoring several sessions at the conference, including the following. Complete descriptions of each session can be found online at http://www.amstat.org/meetings/jsm/2011/onlineprogram/index.cfm?fuseaction=main by searching by activity number, presenter name, or session title.
[Note to editors: ASA will be pleased to try to set up interviews with any of the presenters; contact rosanne(at)amstat(dot)org or 703.946.3820. Press can register for the conference online at http://www.amstat.org/meetings/jsm/2010/index.cfm?fuseaction=pressregistration ]
Controversies in Sports (Activity #208), organized by Gilbert Fellingham, Brigham Young University, features the following talks:

The Tarzan Effect: Why are athletes today better than in years past?—Scott Berry, Berry Consultants
The Bowl Championship Series: Still crazy after all these years—Hal Stern, UCal Irvine
Estimating Steroid Effects Using Aging Curves – Shane Reese, Brigham Young University
From the Diamond to the Rink: Applications of Statistics in Sports (Activity #64), organized by Vittorio Addona, Macalester College:

That's the second-biggest hitting streak I've ever seen! Verifying simulated historical extremes in baseball – Andrew C. Thomas, Carnegie Mellon University
A Curveball Index: Quantification of Breaking Balls for Pitchers – Jason Wilson, Biola University
An Analysis of the National Hockey League (NHL) Draft – Michael Schuckers, St. Lawrence University
Hooking, Boarding, and Slashing: An analysis of NHL on-ice officials – Lauren C. Brozowski & Michael Schuckers, St. Lawrence University
Analyzing and Predicting Success in Sports (Activity #624), includes:

On the optimal prediction of team performance in the NFL – Dan Foehrenbach & Ernest Fokoue, Rochester Institute of Technology
Evaluating the information in baseball statistics – Richard E. Auer & Alyson Lindsey Fox, Loyola University Maryland
It's not over until it's over… or is it? – Daniel R. Iachan, consultant; Ronaldo Iachan & Lee Harding, ICF Macro
Predicting race times for motorcycle Grand Prix racing – Leanne Streja, Robert E. Weiss & Catherine Ann Sugar, UCal Los Angeles
Assessing the published keys to success for a run-and-gun basketball program – Eric Ohrn, Univ. of Michigan; Thomas Moore, Grinnell College
Effects of position and baseline age on NBA player production curves – Aaron McGuire & Garritt Page, Duke University
Is there an off-week advantage in college football? – Is there an off-week advantage in college football? – Eric Howington, Valdosta State University
Lighting up the scoreboard: statistical applications in basketball research (Activity #439), organized by Michael T. Crotty, SAS Institute Inc., features:

Foul on the committee: Investigating and predicting NCAA tournament selection committee decisions – Jay Coleman, Univ. of No. Florida; Mike DeMond, Charles River Assoc.; Allen Lynch, Mercer University
Life on the bubble: Who's in and who's out (of March Madness) – Scotland Charles Leman, Virginia Tech
Shooting for the top spot: exploring the use of NBA combine data to predict draft position – Clayton Barker & Michael T. Crotty, SAS Institute Inc.
Ranking teams in the NCAA Division I men's basketball tournament – Mark Brown, City Univ. of New York; Joel Sokol, Georgia Institute of Technology
Building a championship contender: a statistical model for NBA lineup combinations –Ryan J. Parker & Brian Reich, North Carolina State University; Jarad Niemi University of California
Measuring Fielding in Baseball: present and future (Activity #191), is a lunch roundtable with Shane Jensen of The Wharton School. Jensen will present a sophisticated hierarchical model that uses current ball-in-play data to evaluate individual fielders and will discuss continuing efforts to extend these fielding models to examine the evolution of fielding ability over multiple seasons.
Statistical analyses of judging in athletic competitions: the role of human nature (Activity #562), organized by John Emerson of Yale University, includes these presentations:

Racial bias among MLB umpires – evaluating the evidence – Phil Birnbaum, Society for American Baseball Research
The phantom judge – John Emerson, Yale University
Perception = Reality? Analyzing specific allegations of NBA referee bias – Ryan M. Rodenberg, Florida State University
Bias in sequential order judging: primacy, recency, sequential bias and difficulty bias—Kurt Rotthoff & Hillary Morgan, Seton Hall University
In a session sponsored by the ASA Section on Statistical Education (Activity #182), Robert H. Carver of Stonehill College speaks on "It May be a great day for baseball, but is it a great day for knuckleball?" The knuckleball is one of the rarest pitches in the repertoire of major league pitchers. It has the potential to confound batters with its unpredictable movement, which results from the absence of rotation on the ball and the interplay of the air turbulence and pressure differentials on the stitches and smooth surface of the baseball. In this session, Carver examines game day data for veteran knuckleballer Tim Wakefield of the Boston Red Sox and finds that at least part of the answer may be blowin' in the wind.
Complete program and registration information for JSM 2011 are available at the JSM web site at http://www.amstat.org/meetings/jsm/2011/. Press registration is located at http://www.amstat.org/meetings/jsm/2011/index.cfm?fuseaction=pressregistration
About the Joint Statistical Meetings
JSM, which has been held annually since 1974, is conducted jointly with the American Statistical Association (ASA), the International Biometric Society (ENAR and WNAR), the Institute of Mathematical Statistics (IMS), and the Statistical Society of Canada (SSC). JSM activities include oral presentations, panel sessions, poster presentations, continuing education courses, exhibit hall (with state-of-the-art statistical products and opportunities), career placement service, society and section business meetings, committee meetings, social activities, and networking opportunities. JSM is open to members of ASA, SSC, ENAR/WNAR, and IMS, as well as non-members and has special pricing for students, seniors, K-12 teachers, and also offers one-day registrations. Complete information about JSM is available online at http://www.amstat.org/meetings/jsm/2010/index.cfm.
About the American Statistical Association
Headquartered in Alexandria, Virginia, the American Statistical Association is the world's largest community of statisticians and the second oldest continuously operating professional society in the United States. For 170 years, the ASA has supported excellence in the development, application, and dissemination of statistical science through meetings, publications, membership services, education, accreditation, and advocacy. Its members serve in industry, government, and academia in more than 90 countries, advancing research and promoting sound statistical practice to inform public policy and improve human welfare. For additional information about the American Statistical Association, please visit the ASA web site at http://www.amstat.org or call 703.684.1221.
For more information:
Rosanne Desmone
American Statistical Association
703.302.1861 (direct)
703.946.3820 (mobile)
rosanne(at)amstat(dot)org
# # #