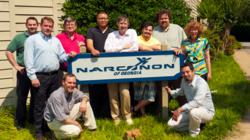 We will keep this program going as long as the prescription drug abuser statistics keep climbing.
Atlanta, GA (PRWEB) July 18, 2011
The Prescription Drug Abuse Reduction Campaign has recently been released by Narconon of Georgia. Described as a far-reaching program, its purpose is to address the continuous rising trend of prescription drug abuse over recent years. The multi-facet program's goal is to provide effective answers for the ever increasing number of individuals who need help or might be on the road to trouble with prescription drugs.
The Executive Director, Mary Rieser stated, "Identifying prescription drug abuse is more difficult than identifying abuse of illegal drugs, due to the fact that so many prescriptions are legitimately written. Therefore, education needs to be done on a broad scale. There are families out there who probably don't even suspect that one of their family members could be in trouble with prescription drugs. Teaching families simple things like checking the internet history for prescription drug purchases or keeping count of all drugs in the household can help a family identify drug abuse. We want to help the individuals identify if there is a problem, so they can get treatment right away."
She further described the program, "Narconon also educates families on preventive measures – things that are easily done like locking up medicine cabinets and random drug testing for teenagers."
The National Institute of Health estimates that nearly 20 percent of the population over 12 (48 million) in the United States have used prescription drugs for non-medical purposes. Prescription drugs are winding up in the wrong hands or, in the case of some individuals, they are doctor shopping.
An ever increasing number of abusers are teenagers. The U.S. Department of Health and Human Services reports 3 million new prescription drug abusers between ages 12 and 25. With the increased availability of prescription drugs more kids are "pharming" prescription drugs. This is the practice of taking drugs from the medicine cabinet at home or a friend and taking a large amount. The favored drugs are Vicodin and Oxycontin but other drugs such as tranquilizers are used as well.
Narconon of Georgia launched its program on July 4th by distributing thousands of drug education pamphlets along with brochures which encouraged treatment for those who are already in trouble. Already two more large events are planned within the next month, as well as public service announcements in newspaper and radio. Drug education classes are also scheduled for the beginning of the school year.
Mary Rieser described the Prescription Drug Abuse Reduction program, which she hopes will provide drug treatment, education and preventive measures on a large enough scale to make a real difference;
"The first priority is to provide workable drug treatment for those individuals who have already become addicted to prescription drugs. Once the drug abuser is identified, Narconon staff members work with the family to ensure that treatment is begun as soon as possible."
The Narconon program boasts a 76% success rate. It consists of a Sauna detoxification, which many claim, helps reduce cravings. The detoxification is followed by Narconon life skills and ethics training which provide tools to assist the individual in remaining drug free.
Mary Rieser further described the Prescription Drug Abuse Reduction Program and the goal to broaden public awareness on prescription drug abusers through education and prevention. Narconon of Georgia includes information about the signs of drug abuse so abusers can be identified and receive the help they need. "Quite often, prescription drug abuse can go undetected. A legitimate use of a prescription drug for pain can turn into a hidden addiction in a very short time. Often, the abuser doesn't have any idea what to do, and it is up to the family to intervene."
The program emphasizes parental awareness of the signs of drug abuse, because of the likelihood that their children will be exposed to "pharm" parties. The education includes brochures on the signs and symptoms of abuse, which include physical manifestations as well as changes in behavior.
Every part of society is being affected, including the elderly. Studies show that 1/3 of prescriptions are written for the elderly, while they only constitute 1/13 of the population. While not all these prescriptions are drugs of abuse, many of them are. Mary Rieser states this is extremely dangerous as many of these older people live alone or are in care away from their families. "It is important that we know what medications that our parents are on, as well as our children. If a person suspects that an elder in their family is abusing drugs, they should take it up with a doctor immediately. The elderly need advocates. They are quite vulnerable."
Narconon of Georgia plans to roll out it Prescription Drug Abuser Reduction Program over the next year. According to director Mary Rieser, "We will keep this program going as long as the prescription drug abuser statistics keep climbing. For the sake of our culture, these stats need to start going the other way We intend to really make a difference."
###