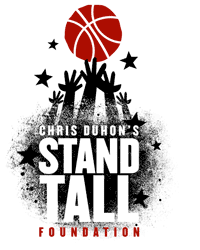 Every day is an opportunity to contribute to the quality of a child's life through education, recreation and welfare
Scholarship Dinner - Slidell, LA (PRWEB) July 20, 2011
Duhon's first event is the Stand Tall Foundation Scholarship Dinner on Friday, July 22nd at The Gallery in Slidell. Duhon awards five, $5,000 scholarships to students who have demonstrated excellence in community service, academics and possess strong leadership skills. The scholarship is to supplement the cost of tuition, fees and books to the four-year college/university of their choice. Tickets to attend are available at $30 per person and can be purchased here.
On Saturday, July 23rd, Duhon will host his third annual Charity Golf Tournament giving a participant the chance to win one million dollars with a hole-in-one. Other prizes includes a trip to Hawaii, golf clubs and cash. The tournament will take place at Oak Harbor Golf Club in Slidell, LA with a 12:30 pm shot-gun start. Participants can register as individuals or on a four-person team. There are sponsorship opportunities ranging from $250 to $5,000. Register online.
The seventh annual Chris Duhon Basketball Camp will take place from July 25 through July 29 at Fritchie Park Gym in Slidell. Once again, Duhon is pairing up with his Salmen High School coach, Jay Carlin to help teach kids the basketball fundamentals. The five-day camp is designed for boys & girls, ages 7-15 and focuses on fundamentals of basketball such as ball-handling, passing, shooting, dribbling, footwork, defense and rebounding. From beginning to end, each day is crammed with a high level of instruction for beginners as well as experienced basketball players in a fun and safe environment. This year, the campers will be treated to a special training experience with a speed and strength demonstration by Parisi Speed School, powered by Cross Gates Athletic Club.
###