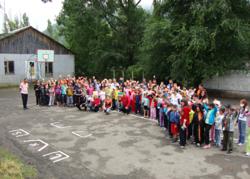 A chance to change the lives of Armenia's most at-risk kid
Yerevan, Armenia (PRWEB) July 21, 2011
World Vision Armenia, Armenia's largest charity, and Ameriabank, Armenia's premier local bank, today announced a joint promotional effort to raise money from the Armenian community worldwide to send up to 3,000 of Armenia's most vulnerable kids to camp this summer. The promotion is called "Send-a-Kid-to-Camp 2011."
Each summer since 2000 World Vision Armenia has sent over 18,000 of Armenia's neediest children to Christian Summer Camps. Run in conjunction with the Churches in Armenia, these camps aim to give vulnerable kids from across Armenia a solid faith foundation and teach critical life-skills, while providing an overwhelming amount of fun.
According to Graham Strong, World Vision Armenia's National Director, "For many kids that come to our camps, this will be the first time they've ever been away from their villages and from the non-stop chores and work that encompass their lives. In addition to providing a biblical foundation for their lives, we aim to give these kids nine days of pure bliss. We want to give them a chance to simply be kids."
Last year World Vision Armenia sent 2,200 kids to camp, but still had to turn many kids away for lack of funds. The goal with the "Send-a-Kid-to-Camp 2011" promotion is to raise enough money to send 3,000 kids to camp. That would be a 26% increase over last year and would be the most kids World Vision has ever sent to camp in one summer.
According to Ameriabank's CEO, Artak Hanesyan, the desire to transform the lives of some of Armenia's most vulnerable children is not new for the bank. Said Artak Hanesyan, "When World Vision approached us with this opportunity, it seemed like a perfect fit. Ameriabank is all about helping raise up a new generation of Armenians that can not only survive, but prosper. As we are also focused on the Diaspora, this effort seemed like a good opportunity to encourage the broader Armenian community to join us in helping make a difference."
The "Send-a-Kid-to-Camp 2011" initiative will run for four weeks, from Monday, July 18 to Monday, August 15. Information about World Vision's Christian Summer Camps and how to donate can be found on the special promotional website http://camp.ameriabank.am/
About World Vision
World Vision is an international Christian humanitarian organization working for the well-being of poor and vulnerable people especially children - through sustainable development, disaster relief, raising public awareness and advocating for justice.
World Vision came to Armenia twenty years ago providing emergency aid to the victims of the devastating earthquake of December, 1988. During the next twenty two years World Vision's projects have gone beyond meeting the demands of crisis situations to promoting spiritual and physical transformation of the communities, empowering them to build a sustainable future for their children and themselves.
About Ameriabank
Ameriabank CJSC is Armenia's premier bank, offering corporate, investment and retail banking services in a comprehensive package of banking solutions. Using both traditional and alternative hyper-advanced banking technologies, Ameriabank helps clients improve their business performance, as well as their quality of life.
An individual approach to each client, innovation, and the unrivalled experience and professionalism of Ameriabank's united team are the cornerstones of the bank's approach.
This approach has kept Ameriabank in good stead throughout its history. As one of the oldest banks in Armenia, Ameriabank has sought to consistently out-innovate the market with leading-edge financial solutions. Today, Ameriabank is the fastest growing Bank in the Armenian market.
But Ameriabank does so much more than simply grow its clients' wealth. Ameriabank is changing the entire Armenian banking industry, as well. On an almost daily basis Ameriabank is almost single-handedly raising the standards of the entire industry.
While Ameriabank has been changing the playing field in its domestic market, a focus on the Diaspora has been a part of it's DNA since the bank's inception. As of this summer Ameriabank will give Diasporans living abroad the ability to bank with in Armenia. By offering innovative features, Armenia's best banking service, as well as competitive rates, Ameriabank has savings and deposit accounts that have been designed specifically to help keep the Diaspora connected with the Homeland. Indeed, with Ameriabank, there is no safer, more secure way to put one's money to work in Armenia.
Being a part of Ameria Group's financial-consulting companies and benefiting from the tremendous international experience and technological opportunities of Troika Dialog, Ameriabank has assumed the role of a partner providing innovative, comprehensive and high-quality financial solutions to clients acting in the Armenian market and the beyond.
Promotion supported by [e-Works
###