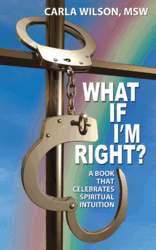 Ann Arbor, MI (PRWEB) July 19, 2011
Addiction and mental illness affect countless people every day. Families and friends struggle to understand what is happening to those they love and seek ways to help them. In the new book What If I'm Right?: A Book that Celebrates Spiritual Intuition (published by AuthorHouse) author Carla Wilson, MSW shares her personal and professional experiences with addiction and incarceration.
Addiction is an insidious and corrosive adversary. It can destroy not only the life of the addict, but the lives of those closest to them. Many people are reluctant to seek help for a loved one's struggles with addiction or for themselves. This reticence can come from pride, embarrassment or simply not knowing how to help or where to find help. What If I'm Right? provides a resource for both those struggling with addiction and those struggling to help them.
Based on almost two decades of experience, What If I'm Right? seeks to make those struggling with the privations of addiction aware that they are not alone. Within its pages, What If I'm Right? provides the tools needed to recognize addiction, accept the reality of that addiction and seek help.
With a guide to seeking out support programs, meditations and prayers What If I'm Right? is a compassionate and comprehensive resource for anyone seeking to break the chains of addiction or to understand the disease that plagues someone close to them.
About the Author
Carla Wilson holds a Master of Social Work and is a corrections deputy at a correctional facility in Ann Arbor, Michigan. She has coached inmates and their families for 19 years. In addition to being an author, Wilson is an inspirational speaker, guided meditation facilitator and life coach in jails, prisons, churches, and educational institutions. She also operates Connection Principle PLLC Empowerment Solutions. To learn more about Wilson and her organization, visit her websites at http://carlawilson.net and http://connectionprinciple.com
AuthorHouse, an Author Solutions, Inc. self-publishing provider, is a leading provider of book publishing, marketing, and bookselling services for authors around the globe and offers the industry's only suite of Hollywood book-to-film services. For more information, visit http://www.authorhouse.com.
###