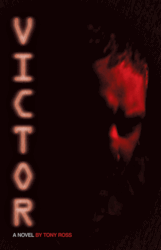 Caroline, WI (PRWEB) July 19, 2011
One of the central tenets of genre fiction is "what if?" In Victor (published by WestBow Press), author Tony Ross ponders the essential question, what if there was a place where literally anything was allowed? How would the people live? How would they act? And when someone threatened that order, how would that utopian society react?
Sunlight City rests on an unnamed Pacific island in 2040. Five million people live and work under one simple law: give the people what they want. Everything is legal, and the only way complete chaos is avoided is by letting the population know that their rights and privileges can be taken away at any time.
Mona Macheski is a brilliant scientist. A confident and assertive woman, her calm is shattered when her latest invention is taken. She has little choice but to flee, because Sunlight City and its overseers, Bifrost Technologies, will stop at nothing to silence her.
Victor is the best of the Black Cat assassins, the specially-trained group who help maintain Bifrost's control over Sunlight City. He is the best at what he does, but he has gaps in his memory and doesn't always understand. His first attempt to silence Mona cracks the wall between him and his past, and he struggles to assimilate the new memories.
As Victor pursues Mona through Sunlight City, trying to both complete his mission and stay ahead of the behemoth his superiors have set on his tail in case Mona has compromised him, both characters are forced to confront ideas and actions that they've never considered before.
Ross believes Victor will appeal to readers because of its fast-paced nature and thought-provoking ideas. "It is more than your traditional thriller," he says, "addressing deep spiritual and moral issues. Victor is a thriller for thinkers."
About the Author
Tony Ross is a writer and part-time minister who lives in north central Wisconsin. His other interests include art and outdoor sports. He is married and has five children.
WestBow Press is a strategic self-publishing alliance of Thomas Nelson, the world's premier Christian publisher, and Author Solutions, Inc. (ASI)—the world leader in the fastest-growing segment of publishing. Through this partnership, authors benefit from the rich publishing heritage of Thomas Nelson and the speed-to-market advantages of the ASI self-publishing model. Titles published through WestBow Press will be evaluated for sales potential and considered for publication under the Thomas Nelson imprint. For more information, or to start publishing today, visit westbowpress.com or call 866-928-1240.
###