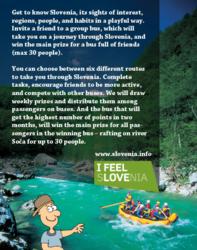 Active "SLO(www)BUS" Facebook community, supported by attractive, current and contentually rich information
(PRWEB) July 24, 2011
With the new game, which is available on the new FaceBook site "SLO(www)BUS", the Slovenian Tourist Board is implementing its strategy of active and dynamic appearance on social networks. Its purpose is to establish an active "SLO(www)BUS" community, supported by attractive, current, and contentually rich information.
One can choose from 10 characters that impersonate the player as the guide. During the preparation phase, a player must select a pre-prepared journey route − application enables six routes that take competitors around Slovenia: these are Emerald, Wind, Amber, Sun, Peddler, and Gold Horn Route. Every guide can invite mostly 30 friends to his bus; and to begin the game at least 5 passengers must be on the bus, so it's smart to invite very active friends to join you. But be careful, friends other than Slovenians bring more points. The essence of the game is for as many Slovenians as possible to invite foreign friends to travel through Slovenia.
An important part of the game is the intermediate stations on selected points of individual routes, where a player will be asked to perform tasks in order to gain points. In order to move to the next station, it is required to gain a minimum number of points (15). Tasks for passengers may be very different: ranging from answering questions about Slovenia, uploading photographs of the Picture Slovenia competition, to posting comments to contents on the web page slovenia.info. An individual cycle of the game lasts two months. During this period anyone can bring any number of buses to the winning post, but in a certain moment he may only be on one bus, either as a guide or a passenger.
Test yourselves and embark on a journey with your friends at slowwwbus.com.
###