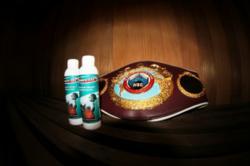 "I'm excited that we are now officially launching the fight, we have a brilliant card put together and I'm confident that this will be the best night in Aussie boxing, perhaps in the history of the sport"
Bendigo, Victoria, Australia (PRWEB) July 18, 2011
After spending four years in the USA, Michael Katsidis is excited to return to fight in Australia against Lozada. "I'm excited that we are now officially launching the fight, we have a brilliant card put together and I'm confident that this will be the best night in Aussie boxing, perhaps in the history of the sport"
Lozada (30-8-1, 30 KOs), 27, of Mexico, is 2-2 in his last four bouts, including a sixth-round knockout loss to former junior welterweight Paulie Malignaggi, who faced him at welterweight. Katsidis said he is moving up to 140 pounds, where he hopes to defeat Lozada and then take on fellow all-action fighter Erik Morales (51-7, 35 KOs), the 34-year-old resurgent Mexican star and former three-division champion. The 30-year-old Katsidis (27-4, 22 KOs) and Morales are both with Golden Boy Promotions, making the fight even more likely.
Lightweight contender Michael Katsidis' rematch with Graham Earl had fallen apart over unspecified contractual issues, so the Australian brawler will face Michael Lozada instead, with an eye on a much bigger fight.
"We had a verbal agreement with Earl, which broke down when it came to the contractual agreement," Smith said. "We have now signed Lozada to come to Australia and we are excited to have it at the Gold Coast."
"I'm excited about moving up to junior welterweight and the challenge that comes with moving up a weight division," Katsidis said. "I want Morales next and that is what we are working toward, but firstly I need to focus on Lozada. He has a strong record."
"I have had a few discussions with (Golden Boy president) Oscar De La Hoya and the team at Golden Boy Promotions and there is big interest in a fight between Michael and Erik Morales," Smith said. "That was part of the reason for going with Lozada. We wanted to stick with the Mexican fighting style."
Katsidis and Earl had agreed to a rematch about three weeks ago. It would have been a sequel to their memorable 2007 slugfest in Earl's native England. Katsidis won the interim lightweight title bout when he stopped Earl in the fifth round after having been knocked down earlier in the bout.
Katsidis has dropped two fights in a row, a lopsided decision to Robert Guerrero on April 9 and a ninth-round knockout in a lightweight championship fight against Juan Manuel Marquez in November. The loss to Guerrero came on the undercard of Morales' decision loss to Marcos Maidana in a brutal slugfest that headlined the HBO pay-per-view card.
Katisids sponsor, Elmore Oil, have made the event even more tempting by offering a chance to watch Michael ringside at the Gold Coast venue. The Elmore Oil Company, who manufacture one of the worlds most popular pain relief and anti inflammatory lotions, have posted a competition on their website and facebook page offering 2 lucky people the chance to travel to the Gold Coast, all expenses paid, and watch Michael take on the wild Mexican.
Under the rules of their competition, which is open to all Australian residents aged 18 years or older, all you need to do is purchase any size bottle of their product known as Elmore Oil at any pharmacy in Australia, or online at the website, and send your receipt as proof of purchase, along with your name , address and phone number to:
Katsidis Fight Night Competition, c/- Elmore Oil Co. 70 Powells Ave., Bendigo Vic, 3550
The contestants will then go into the draw to win a trip for 2 people to the Gold Coast to stay at Jupiters Casino for one night, with Show Floor tickets to watch the fight. All domestic flights and airport transfers will be included where applicable. In addition, they will also receive a signed and framed (Perspex Case) glove from Michael Katsidis himself. The competition is drawn August 8th 2011.
###