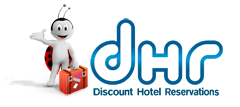 (PRWEB) July 18, 2011
Being a leading hotel provider, Dhr.com is facing the challenges and opportunities with the expansion of the Internet and the users from around the world are eager to explore the website, share their experience. As a new generation of online hotel booking, Dhr.com offers services through its own website and call centers for more than 150.000 hotels in 15.000 different places across the globe. The company gives travelers a wide selection of accommodation options, including both independent and major chain hotels by using internet. Dhr.com is becoming one stop shop source for hotel pricing, amenities and availability.
With the last minute hotel deals that Dhr.com offers to its visitors, spend a quality time in discount hotels and beach destinations that can be found on the hotel list. The website has last minute hotel deals for nonstop party places like Ibiza, Magaluf, Playa de las Americas to destinations that give the travelers a break from everyday life and place to rest and enjoy the beautiful sandy beaches like Miami, Rio de Janeiro, Dubai, Barcelona, Marrakesh and many other places that listed on Dhr.com.
Dhr.com established a team that literally covers the globe, with offices in Turkey, Philippines and United States of America, which means there is always someone to assist the customer in need. In time to come, Dhr.com will continue to invest and grow in one of the most trusted online agencies, will increase its destinations and add new accommodation types to satisfy its visitor's needs and constantly work on giving the lowest hotel rates and discounts hotel reservations around the world. The website is multilingual and operates on 21 languages with real time availability and provides an effort free and smooth booking.
Also, at Dhr.com exists useful information about tours and activities such as sightseeing, attractions, day trips, show tickets and transfers. The site supports booking up to 10 different activities for different destinations. Customers can easily search for a group activities and everybody can organize a trip for business, honeymoon or celebration or sporting event.
Dhr.com will continue to listen to its customers and give hotel discounts for destinations all over the world. Besides providing cheap hotel offers, the website also has a modern user friendly interface that gives much information and pictures of the hotels so the needs and interests of all the visitors are suited.
It is time to visit Dhr.com (discount hotel reservations) and choose some of the many last minute deals.
###