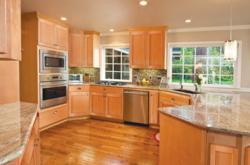 Dalton Sable cabinetry brings a new style of quality, a new style of simplicity!
Mt. Crawford, VA (PRWEB) July 19, 2011
Living life and letting go! It's a natural response to the recessionary pressures of today's economy, driving a resurgence of contemporary styles and focus on functionality, value and simple beauty.
River Run Cabinetry was looking to expand their style offerings. Their understanding of what consumers are looking for lead to the new Dalton Sable design. "We have been judicious in expanding the styles River Run offers. Focusing our resources on a select set of styles rather than a sea of choices allows us to deliver a superior product at a unique value. Consumers want simple beauty, quality construction and affordability and that's what the Dalton Sable line delivers," says Chad McGlaughlin, River Run Cabinetry President. The Dalton Sable line brings a refined, classic simplicity with a naturally rich light sable finish. Its unpretentious, welcoming warmth enriches and accents the homeowner's natural style.
Quality and affordability are built into every River Run Cabinet, and the Dalton Sable line is no exception. It includes many features which are considered upgrades in other brands. The solid construction and natural beauty of the wood have made it a very popular choice among quality conscious and value focused shoppers.
For more information about the new Dalton Sable line or to receive a River Run Cabinetry brochure and details, visit riverruncabinetry.com or call 540.438.5973.
River Run Cabinetry is located in the beautiful Shenandoah Valley of Virginia. Our founders' mission is to deliver the best value possible in a fully featured cabinet line. This approach, coupled with state of the art inventory control systems and carefully selected styles, has led our dealers to embrace our superior products. The result of this focused hard work is a selling and distributing network that encompasses the entire United States. River Run Cabinetry is a subsidiary of Classic Distribution, Inc. The home office is located at 4660 Early Road ● Mt. Crawford, VA 22841 ● 540.438.5973
###