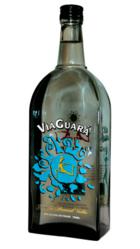 "We just obtained distribution in the East and already we've broken the ice in the West."
Las Vegas, NV (PRWEB) July 20, 2011
In a double announcement, ViaGuará US, Inc., makers of the debuting ViaGuará Guarana flavored vodka in the US, affirmed that Southern Wine & Spirits of Nevada, Inc., a subsidiary of Southern Wine & Spirits of America, Inc., had won sole distribution rights in Nevada, and that M&M Distributors, Salt Lake City, is the authorized agent in Utah after the recent approval for state-wide sales by the Utah Liquor Commission. The news of ViaGuará entry into the West comes just weeks after the announcement that Myssura Trading Co. (see PR June 1, 2011) won rights to distribute the superlative tasting spirit throughout New York and New Jersey.
"It's exciting to know that our flagship debut of ViaGuará Guarana flavored vodka's state-wide distribution is expanding without complications," said Mr. Robert Kobylarz, ViaGuará's US, Inc.'s director and co founder. "We just obtained distribution in the East and already we've broken the ice in the West. Contract negotiations for distribution rights USA-wide are ongoing, and we expect further announcements in the near future. Our goal to introduce a 500 year-old deeply rooted Eastern European vodka tradition to Americans, combined with our triumph of the first ever infusion of Brazilian guarana and Madagascar ginger, is now available for Nevadans and Utahans to enjoy."
The Southern Wine & Spirits of Nevada began distributing ViaGuará's Guarana throughout Nevada. In fact SWS placed their second order before the first order was even delivered. According to Mr. Kobylarz, "We expect some resistance from distributors because there are so many vodka flavored options on the market and distributors are reluctant to add another to their inventory. However, when we organize tasting parties and/or blind tasting tests, distributors get really excited about this unique drink that fuses Brazilian Guarana, Madagascar ginger and premium vodka for an unusual and unparalleled taste." Mr. Kobylarz added, "Distributors are always looking for a peerless adult beverage, particularly for their vodka aficionados, although Guarana's fusion does appeal to a variety of tastes and can be concocted innumerable ways. Consequently, it's been very gratifying that both Nevadan and Utahan distributors supported our product early on."
As is generally the procedure in Utah for new alcoholic beverages, the Utah Liquor Commission approved state-wide distribution on a special order basis. Customers need to submit their orders to the Department of Alcohol Beverage Control, who – in turn – forwards its approval to M&M Distributors, ViaGuará US, Inc.'s authorized agent. Mr. Kobylarz expressed hope – based on early tasting trials – that Utahans' demand for its superlative and unique Guarana Flavored Vodka will cause the ULC to rescind its special order regulation soon. In the meantime, to order go to: http://abc.utah.gov/online/special orders.html.
The unique flavor of ViaGuará Vodka can be enjoyed neat, on the rocks or with your favorite mix. ViaGuará US didn't stop with the superlative taste. They went to great lengths to use a free flow gray amethyst glass bottles that turns blue in the freezer. The prestigious bottle, with its hot foil stamp metallic labeling, is absolutely reflective of the premium goodness inside. Plus, there's an additional side label that allows merchandising the bottle sideways when shelf space is limited.
About the Product: ViaGuará's Guarana Flavored Vodka is a fusion spirit produced and marketed by the ViaGuará US, Inc. Crafted from more than 500 years of Eastern European vodka heritage, ViaGuará is the first to fuse Guarana and ginger + premium vodka for the warmth and stimulating taste of a tropical paradise. ViaGuará is distilled and bottled in historic Lawrenceburg Distillers Indiana, one of the world's oldest and best performing independent distilleries in the United States with more than 100 years of tradition. For more information about ViaGuará, please visit http://www.ViaGuara.us. Please enjoy Guarana Flavored Vodka while drinking responsibly.
Name: Guarana Flavored Vodka
Type: Spirit, 40% alcohol content
Size: 750 mi, Packaging: 12 bottle case
Suggested Retail Price: $19.99 per 750 mi
Producer: ViaGuará US, Inc.
Sales areas: Negotiating further select US markets, NY, NJ, UT, NV
Contacts:
Robert Kobylarz – Director
Tel: 702-577-8487
BogdanK(at)ViaGuara(dot)US
ViaGuará US, Inc.
400 S. Rampart Suite 400
Las Vegas NV 89145
Tel: 702-686-9679
Operations Office
8785 South Sutton Way
Salt Lake City, UT 84121
###