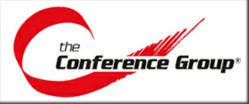 Our customers told us what they wanted, and we really took that to heart.
Newark, DE (PRWEB) July 19, 2011
The Conference Group, a tier one provider in conferencing solutions, today has announced the launch of a new website designed to focus on the end user experience. The cleaner design highlights a versatile suite of products and services, and an intuitive user interface provides a simple and straight-forward approach to discovering and applying audio, video, and web conferencing solutions.
"Our customers told us what they wanted, and we really took that to heart," says Sean Shannon of the Conference Group. "We have implemented a new and easy to use Customer Dashboard along side a streamline design that clearly outlines our services and our products' features. Some of the features we have implemented include product comparison charts, conference call attendance reports, the ability to easily retrieve your conference call's recordings, a list of international and domestic Toll-free access numbers, and a number of users guides, designed to help our customers get started."
The new site is set to launch within the next coming weeks, but a sneak peek will be available on the Conference Group's existing site at http://www.conferencegroup.com/new-release/. Customers can sign up to become beta testers of the new website, and get access to explore some of the new features before the general public.
The Conference Group offers a full range of audio conferencing, web conferencing and video conferencing solutions to fully meet conference call and collaboration expectations. Clients enjoy a customized and effective meeting experience with a variety of features and services, scalable to fit both small and large businesses. The Conference Group is proud to provide the sophisticated technology needed to enable a superior quality of audio, web, and video conferencing solutions to help businesses succeed on a global scale.
The Conference Group opened its doors for business in 1999 with a focus on quality customer service. This "boutique" approach has remained the focus since the beginning and has resulted in a very high degree of customer satisfaction. Recognized as the "Members Choice" in conferencing communications by Telecom Association, the Conference Group continues to display an award winning level of service. For more information, please call The Conference Group at 877-716-8255, or visit them online at http://www.conferencegroup.com.
###