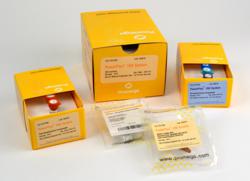 Madison, WI (PRWEB) July 19, 2011
Promega PowerPlex® 18D System is now approved for use in laboratories generating DNA records for the National DNA Index System (NDIS). NDIS is the U.S. national database containing over seven million offender and forensic DNA profiles used to help authorities identify criminals nationwide.
Launched in February 2011, the PowerPlex 18D System is an 18-locus, multiplex STR amplification system designed for rapid DNA typing from offender database and familial relationship samples. The system supports direct amplification of samples collected on FTA® card punches, eliminating the need for a separate DNA extraction step. Thermal cycling times for PCR are significantly shortened from 2.5 hours to less than 90 minutes using rapid thermal cycling technology. Total time from sample extraction to DNA profile is reduced by up to 6 hours, making one-day genotyping possible.
The PowerPlex 18D System is the only product that provides all 13 CODIS loci plus D2S1338, D19S433, Penta E, Penta D and Amelogenin. This expanded loci panel enhances the power of discrimination and allows comparison of offender DNA profiles generated with the PowerPlex 18D System to those generated using the Identifiler® or PowerPlex® 16 Systems. Difficult familial cases (e.g., for paternity) also benefit from extra loci that provide greater confidence in determining the genetic relationship between individuals.
With improved workflow efficiencies, forensic database and DNA-testing laboratories can save hands-on time and reagent costs, liberating resources for other projects such as casework backlog. A recent feasibility study published by the Michigan State Police (see Profiles in DNA) highlights time and labor savings that may be possible. With shortened sample processing and improved amplification chemistry, the PowerPlex 18D System provides laboratories with unmatched operational efficiencies and expanded loci for high-discrimination genotyping.
Promega Corporation is a leader in providing innovative solutions and technical support to the life sciences industry. The company's 2,000 products enable scientists worldwide to advance their knowledge in genomics, proteomics, cellular analysis, molecular diagnostics and human identification. Founded in 1978, the company is headquartered in Madison, WI, USA with branches in 15 countries and over 50 global distributors. For more information about Promega, visit http://www.promega.com.
Identifiler is a registered trademark of Applied Biosystems, Inc.
PowerPlex is a registered trademark of Promega Corporation.
# # #