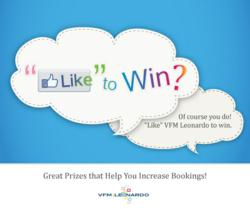 Toronto, ON (PRWEB) July 18, 2011
VFM Leonardo has launched '"Like to Win,"' a Facebook contest that awards hotels with tools to help them win more bookings from online travel shoppers. The prizes include VFM Leonardo's new VBrochure Facebook App and BestSTART Plus+ Professional Services Packages.
Starting today, hotels can enter the '"Like to Win,"' contest by visiting VFM Leonardo's Facebook Page. Two winners will be selected at random on a monthly basis, beginning in August. Enter the contest.
THE PRIZES
VBrochure Facebook App
The VBrochure Facebook App is one of the latest new features of the VBrochure Online Merchandising System. It's a multi-media player that hotels customize to display their media (videos, virtual tours, photos, floor plans, and promotional copy) right in their hotel Facebook Page and link travel shoppers directly to their booking engine.
As part of the VBrochure Ultra Premium product, winners of the VBrochure Facebook App also receive a similar, fully customizable Multi-Media Player that they can use as their hotel website media gallery and mobile website and to syndicate their story to thousands of online channels – online travel agencies, review sites, major search engines and more.
BestSTART Plus+ Professional Services Package
Current VBrochure Ultra Premium customers who enter the contest are eligible to win a BestSTART Plus+ Professional Services Package. This package will provide a makeover of the winner's VPowered Multi-Media Player, enhanced according to what they want to achieve and industry best practices as well as implementation of their Facebook App, website media gallery and Mobile web site. Hotels that win BestSTART Plus+ will also be featured on VFM Leonardo's Facebook page.
TO ENTER
Click here to enter the "Like" to Win Facebook contest. Official contest rules and regulations are available here.
About VFM Leonardo
VFM Leonardo is a technology leader in online visual content management and distribution systems. VFM Leonardo's VScape® and VBrochure™ products leverage the distribution capabilities of the VNetwork™, the most universally accepted and largest online visual content distribution network for the global travel industry including all four global distribution systems (GDSs), Pegasus and travel-related channels including online travel agencies, travel research and supplier web sites, search portals, review, travel editorial and major social media and video sharing sites. VFM Leonardo offers the hotel industry the most effective digital asset management and online merchandising systems available today and effectively reaches tens of millions of consumers monthly with over 1,000,000 visual images (photos, virtual tours and videos) on more than 30,000 travel and social media websites in the VNetwork including all major search engines, Amadeus, Galileo, Sabre, Worldspan, Pegasus, Travelocity, Orbitz, Priceline, Tripadvisor, Yahoo! Travel, Kayak, Facebook and many more for 90,000 hotels worldwide. For more information about VFM Leonardo, visit http://www.vfmleonardo.com.
Connect with VFM Leonardo.
Twitter
Facebook
Blog
Media Contact:
Julie Ford, VFM Leonardo Inc.
Toll free: 1-877-593-6634
Phone: 416-263-5446
Email: press(at)vfmleonardo(dot)com
###